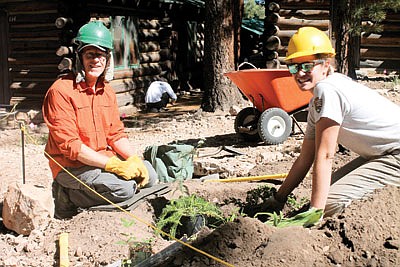 Grand Canyon National Park Vegetation Crew Coordinator Sarah Sterner shows volunteer Theodore "Ted" Buxton planting techniques at the North Rim re-vegetation project. Loretta Yerian/WGCN
Stories this photo appears in:
GRAND CANYON, Ariz. - Grand Canyon National Park volunteers love plants. There's no two ways around it and why not? Where else do you get a chance to work at one of the most beautiful places in the world while being part of the cycle of life?
By Loretta Yerian
August 18, 2015