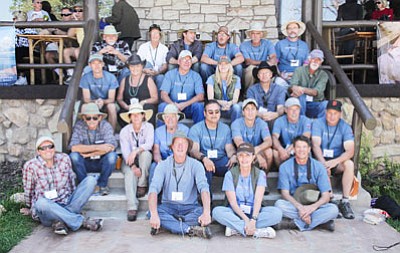 The 2012 Grand Canyon Celebration of Art artists take a moment for a group shot after completing their quick draw paintings. Artists at this year's event included Joshua Been, Shonto Begay, Elizabeth Black, Amery Bohling, John D. Cogan, Bill Cramer, Robert Dalegowski, Cody DeLong, Jake Gaedtke, Linda Glover Gooch, Gregory Hull, Michael Chesley Johnson, Sam Jones, Becky Joy, Paul Kratter, Joella Jean Mahoney, Larry Moore, P.A. Nisbet, Erin O'Connor, Glen Renell, Dave Santillanes, Dan Schultz, Julia Seelos, Williamson Tapia, Rick Wheeler and Jim Wodark. Ryan Williams/WGCN
Stories this photo appears in: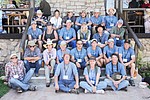 The Grand Canyon Association (GCA) wrapped up the 4th Annual Celebration of Art Sept. 14 with 26 artists painting plein-air and capturing the awe-inspiring views the South and North Rim offer and, for the first time, at Indian Garden and Phantom Ranch.
By Williams-Grand Canyon News
September 25, 2012