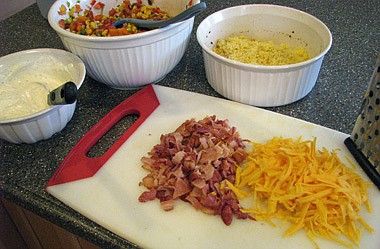 These are all the ingredients necessary to assemble cornbread salad.
Stories this photo appears in:
These days, I never know what time to serve dinner. My husband is helping our son remodel a home. It is not uncommon to eat as late as 8 in the evening, which I know is not ideal. It is difficult to cook a meal not knowing if we will eat at 6:30, 7, 7:20 or 8. So, today I'm doing something different.I am making cornbread salad that must chill at least three hours prior to eating. It is a recipe I got from who knows where years ago. I am glad I remembered it today. It is also something you can make with whatever you have in your pantry without going to the store.
By Lynda Duffy
May 6, 2012