The Mike Reeves band will play at the Made in the Shade Beer Tasting Festival. Submitted photo
Stories this photo appears in: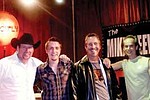 FLAGSTAFF, Ariz. - With its 20th annual craft beer tasting event set to unfold on June 23, Sun Sounds of Arizona plans some enticing surprises for festival-goers this year. Alliance Beverage Distributing is teaming up with the Made in the Shade Beer Tasting Festival and will sponsor a special World of Beers indoor venue. The Mike Reeves Band makes a surprise return to the Festival bringing lively and danceable originals, rock-and-roll, Top 40 and country to the event. Also, the Alaskan Brewing Company plans to introduce a mystery beer in honor of the 20th anniversary version of one of America's best and longest-running beer festivals: the Made in the Shade.
By Williams-Grand Canyon News
June 5, 2012