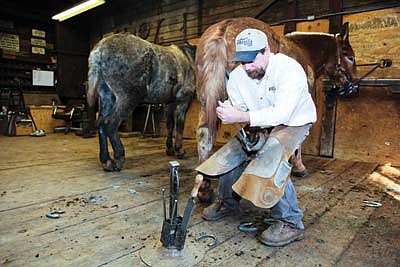 Ryan Williams/WGCN
Charles Berrong lifts the back leg of Nugget, a pack mule at Grand Canyon, onto his thighs before begining the shoeing process. Berrong sees a chiropractor once a month in order to counter the physically demanding work.
Stories this photo appears in: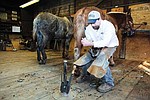 Keeping Grand Canyon's 124 mules healthy and trail ready requires a coordinated effort. Max Johnson oversees the Livery Barn's operations, wranglers head teams of mules down the trail and a full-time saddle maker keeps saddles and tack in good shape. But, Charles Berrong, Grand Canyon's ferrier, would likely argue it comes down to footwork.
By Ryan Williams
January 10, 2012