Ryan Williams/WGCN
Grand Canyon Saddlemaker Joe Marshall takes a short break from building saddles and repairing the Livery's leather tack in his shop on the South Rim.
Stories this photo appears in: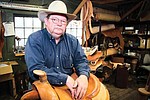 'A good mule is a happy mule'
Grand Canyon's resident saddlemaker matches the Livery's mules with the right saddle making for a comfortable ride and animals that feel good and behave well
For many, the mention of the Grand Canyon brings one thing to mind. Mules. Mule trains carrying visitors to the Canyon down the Bright Angel Trail can be seen daily and supplies are transported to Phantom Ranch by pack mules just as often.
By Ryan Williams
February 21, 2012