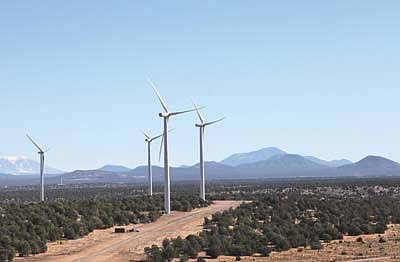 Ryan Williams/WGCN
Wind turbines stand at the ready against the backdrop of Bill Williams Mountain. In a month's time, 62 turbines in all will be operational at the Perrin Ranch Wind Farm off Highway 64 about 13 miles north of Williams.
Stories this photo appears in:
FLAGSTAFF, Ariz. — Plans to build a 400 MW solar resource on private land north of Flagstaff are underway.
The Perrin Ranch Wind Farm, a 99.2 megawatt electrical generating project located just north of Williams, will likely be supplying power to Arizona Public Service by the end of the year.
By Ryan Williams
November 22, 2011