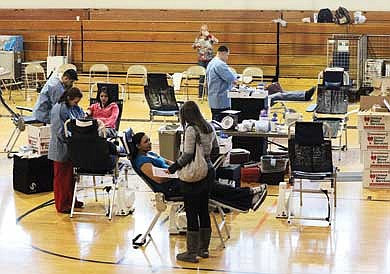 Ryan Williams/WGCN
Williams High School students donate blood during a January drive. United Blood Services hope to collect from 150 donors April 26-27.
Stories this photo appears in:
United Blood Services (UBS) is conducting a blood drive April 26-27 in the Williams High School (WHS) band room. Donate blood 8 a.m.-6 p.m. April 26 and 1-6 p.m. April 27. The drive is made possible through the efforts of the WHS Student Council.
By Williams-Grand Canyon News
April 5, 2011