Ryan Williams/WGCN
Above, The SInging Pig's cook Kevin Manley prepares lunch. Bottom, just one of the many lunch items available at the restaurant.
Stories this photo appears in: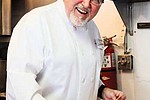 Being a pig is rarely allowed at the dinner table, but at Williams' newest eating establishment, it's encouraged. Sticky fingers and all.
By Williams-Grand Canyon News
April 5, 2011