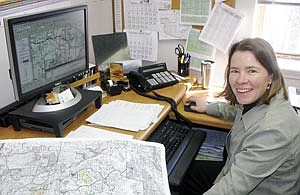 Assistant Forest Planner Ariel Leonard puts the finishing touches to the maps that will be used in the proposed action plan, scheduled for release in mid-February.
Stories this photo appears in:
The Travel Management Rule (TMR) is alive and well on the Kaibab National Forest, despite a late arrival for the Forest Service's (FS) proposed action plan, originally scheduled for completion last year. According to officials with the Kaibab National Forest, the proposed action plan, step two of the TMR, will be released in mid-February. The plan was originally scheduled for release in October, though that date has been shifted due to the creation of a comprehensive list that explains what forest roads are slated for closure and for what reasons, FS officials said. That comprehensive list, they said, came as a result of the public's desire to know exactly why certain roads were being closed.
By Patrick Whitehurst
January 30, 2008