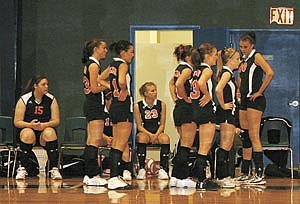 The Lady Vikings will go on to play the fourth seed pick later this month after a win and a loss against Fredonia Oct. 13. The girls will take on Bagdad tomorow at 4 and 5 p.m. at WHS.
Stories this photo appears in: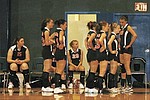 The Lady Vikes took on Northland Prep Oct. 2 on Northland's home turf, winning the match in three games. Both the junior varsity (JV) and the varsity girls played in the away match. The JV girls went all three games in their best of three matches, though they managed to go home with the win by the time it was all said and done. The JV won the first game with a final score of Williams 25, Northland Prep 18. They didn't manage a win in the second match however, with Northland Prep winning 25-18. It was the only win for them however, as the JV team came back to take the game with a second win for the day. Final score for the third match was Williams 20, Northland Prep 18.
By Patrick Whitehurst
October 17, 2007