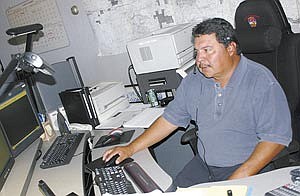 Sam Espinoza, director of support services for the Williams Police Department, works dispatch at the police department. The new tip line will offer callers the chance to remain anonymous.
Stories this photo appears in: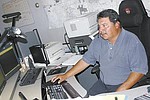 There could be any number of reasons behind a phone call to the police department in Williams. Aside from an emergency, callers may wish to offer help to local law enforcement officials, but may be hesitant to do so as they may not wish to be identified. Some callers are fearful for that very reason, as well as other reasons, said Williams Police Chief Herman Nixon.
By Patrick Whitehurst
October 17, 2007