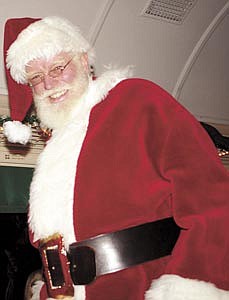 The one and only Santa Claus smiles to passengers after boarding the Polar Express™ train.
Stories this photo appears in: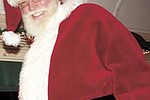 Polar party
Kids flock to the rails to visit with Santa
The tracks of the Grand Canyon Railway rumbled beneath their feet as large handfuls of families traveled through a magical portal to a land far away - a land filled with elves, candy canes and reindeer. Children plastered their faces to the windows on the train ride, eagerly awaiting their first glimpse of twinkling Christmas lights. Many wore their pajamas on the trip, ranging from fluffy zebra robes to more conservative plaid sweat pants and T-shirts. Despite the variation in dress style, everyone took part in the hot cocoa and oversized chocolate chip cookies. Anticipation for Christmas charged the train car like a burst of yuletide electricity.