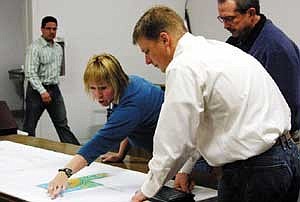 Developer Mason Cave explains drainage issues to Williams resident Jeana Stevenson. Stevenson owns property that abuts the proposed subdivision
Stories this photo appears in: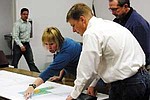 Forest Canyon Estates, the much debated development at the south end of Williams, made it past the preliminary plat stage Feb. 20 at the regular meeting of the Williams Planning and Zoning (P&Z) Commission. The preliminary plans will go before city council for approval March 8. The subdivision, put forth by TMD Group of Phoenix, was the only item on the agenda.
By By Patrick Whitehurst
March 1, 2007