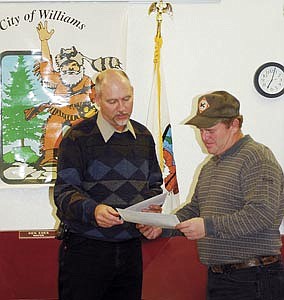 Sheldon Johnson, pictured right, receives an award from Mayor Ken Edes during the regularly scheduled meeting of Williams City Council Dec. 13. Johnson, as well as the rest of the Williams Maintenance Department, were honored for their recent work in building a new sanitation truck for the city of Williams.
Stories this photo appears in: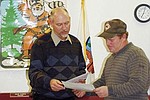 Members of the Williams City Council met Dec. 13 for their only regularly scheduled meeting in December. Every councilmember was present for the meeting and approved a variety of topics from the abandonment of a public utility easement for the Reserve subdivision located west of Country Club Road to the approval of water allocation for Route 66 Auto Care, both owned by area resident Mike Cowen. Council members also approved an application proposal that would seek roughly $3 million in GADA (Greater Arizona Development Authority) funds for use in two city projects: Frontage Road and Country Club Road.
By Patrick Whitehurst
December 19, 2007