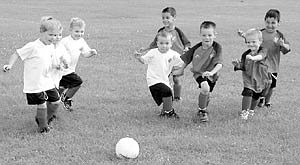 Red Rockets players Hunter Dearden, Kai Grumbine, Caleb Burlington, Cole Cameron and Red Fireballs players Joe Zabala, Frankie Kramer, Kolby Payne, David Lazano fight for the ball.
Stories this photo appears in:
On Aug. 7, the two Williams U6 boys teams faced off at home field in Williams. The Red Fireballs finished their season with an exciting game against the Red Rockets. For the Red Rockets, Caleb Burlington, Cole Cameron, Raven Christiansen and Hunter Dearden showed off their ball handling skills and Kai Grumbine knocked in a couple of goals.
By From Staff Report
August 18, 2006