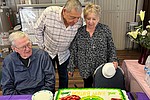 Connie Hiemenz celebrates her birthday at the Williams-Grand Canyon News office March 13. Hiemenz has worked for the paper for 26 years.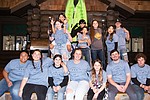 Williams Young Life hosted their 17th annual Steak Dinner and Auction March 5.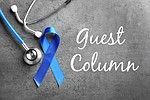 Guest column: March is Colon Cancer Awareness Month
By Sheila Sjolander, Arizona Department of Health Services
March 21, 2023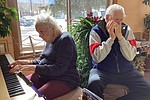 Guest column: Williams Senior Center is the heart and soul of the community
By Peter Tomaino
March 21, 2023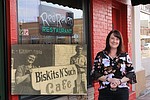 The restaurant business runs in Deanna Plasencia's blood. Plasencia became the new owner of the Red Raven Jan. 1. Nearly four decades ago, her mother owned a restaurant in the same exact building.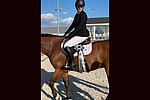 Mckell Giese was named Grand Champion at the World Equestrian Center Ocala Florida Winter Spectacular Week 8, Adult Jumper 1:10 Meter.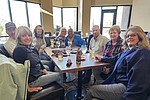 Over 25 people attended The Williams Rotary Club's "We can't wait for Spring," mixer at the Western View Steakhouse.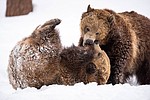 The animals of Bearizona make the most out of snow days.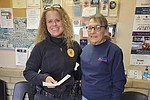 Williams Animal Control Officer Leah Payne accepts a donation from Senior Center Thrift Store manager Mary Martin Feb. 23.
Led by a few "coffee celebrities," The Stampede coffee shop in Williams hosted a coffee tasting Feb. 21.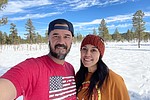 Aiming to raise self-esteem, confidence and self-acceptance in tweens and teens through the power of photography, JY Photography recently launched the "This Is Me Project."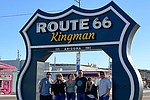 The award winning Grand Canyon Brewery and Distillery is making its way to Kingman.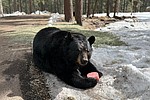 The bears of Bearizona indulged in some sweet Valentine's Day treats.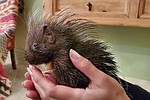 Quillie Nelson is the newest member of the Deer Farm family. Quillie, an African crested porcupine, was born Dec. 30th.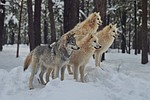 The Bearizona wolf puppies strike a pose in the recent snow.
Prev Next