Lady Vikes kick off season with wins against Grand Canyon, St. Michaels, Shonto
By Marilyn R. Sheldon, Williams-Grand Canyon News
Originally Published: September 12, 2023 10:30 a.m.
WILLIAMS, Ariz. — The Williams High School volleyball team is off to a solid start for the season.
The youthful team, with only one senior, Kai Mortenson, returning, already has posted a 4-0 record in the 1A Canyon Conference.
Coach Connie Stevens is pleased with way the team is coming together.
"I just got the team finalized with the Grand Canyon match," Stevens said. "I think this is the right combo."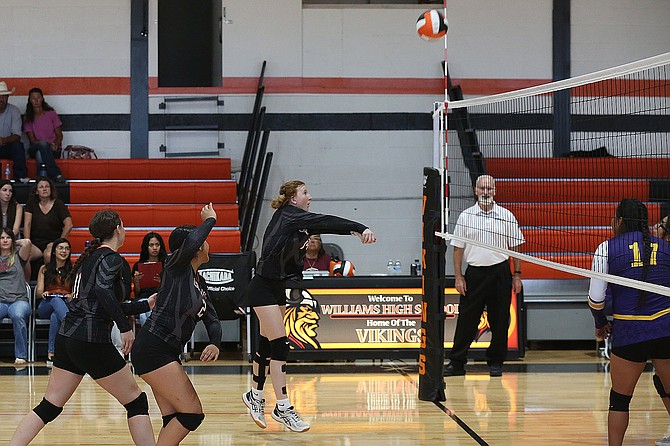 The anchors for the team are Mortensen, Kyleigh Amos and Adilene Martinez-Herdandez, a sophomore who is the setter for the team. Faith Jensen and Maranda Chaney (middle blocker) have both earned starting spots.
"We just need a couple of more players to step up," Stevens said.
They started out last week with a pair of regional wins at home over Grand Canyon. Match scores were 25-21, 25-16, 24-26, and 25-18 for the first match. Mortenson and Kylie Amos led the way at the net offensively, with 25 and 13, respectively. Mortenson also tallied four serving aces. For the second match, the scores were 25-16, 25-11, 21-25, and 25-21.
On the road playing St. Michael in a non-league contest, the Lady Vikes had to go to five sets to secure the win. They took the first two games; 25-16 and 25-19. The Cardinals dug deep, and pulled off a 26-24 win in the third set, and a 25-22 win in the fourth to tie things up. Williams fought back, and dominated the final set for a 15-5 tiebreaker win.
On Sept. 9, Williams hosted Shonto Prep in a non-league matchup. The Lady Vikes controlled the first two sets, handily winning them 25-5, and 25-8. WHS Coach Connie substituted freely, and came out with a 25-22 win in the third set to finish the match.
On Sept. 14, the Lady Vikes will host Red Mesa at 6 p.m. Saturday they travel to Flagstaff to play BASIS Flagstaff. Game time is 6 p.m.
---
SUBMIT FEEDBACK
Click Below to: