Ash Fork High School recognizes 18 graduates May 4
By Marilyn R. Sheldon, Williams-Grand Canyon News
Originally Published: May 23, 2023 9:29 a.m.
ASH FORK, Ariz. — The Ash Fork Joint Unified School District held its commencement exercises May 4. Eighteen seniors graduated, several of whom were awarded scholarships which totaled more than $140,000.
Valedictorian Luis Ayala received the largest share of awards, which amounted to just over $90,000. His scholarships included; a four-year NAU Lumberjack Scholarship for $44,000, Alissa's Angel Foundation for $5,000 annually, potentially renewable yearly for a total of $20,000, Bearizona for $2,500, Arizona Education Forward Scholarship $6,000 yearly, possibly renewable for a total of four years, JuniperWood Landowners Association and the Ash Fork Development Association, both one-time scholarship awards of $500.
Paola Acosta, the class salutatorian, received a Wildcat Distinction Award for $12,500 per year for four years, totaling $50,000. Daniela Vazquez was a recipient of an NAU Lumberjack scholarship in the amount of $11,000 for four years.
Olivia Johnson was named a New American University Scholar, and received a Dean's Award through Arizona State University for $2,500 per year. Alberto Ayala was awarded $2,000 per year from the Arizona Promise Program through Arizona State University.
Two of the graduates have joined the military, and are scheduled to begin service in June. Tori Sisneros has joined the Army. Nick McCreary has enlisted in the Navy.
Elijah Cardenas, Hannah Burke, Corbin Keele, Kyle Nixon, Hugo Mendieta and Owen Prosser are planning to attend a college or join the work force.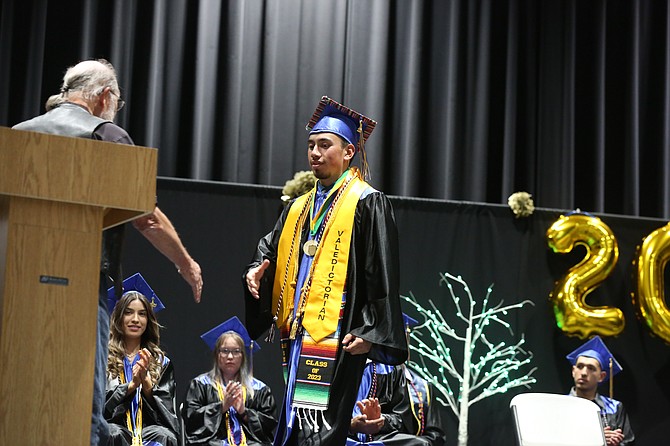 ---
SUBMIT FEEDBACK
Click Below to: