Williams Elementary-Middle School announces March Students of the Month
Originally Published: March 28, 2023 11:22 a.m.
WILLIAMS, Ariz. — Williams Elementary-Middle School recently announced the March Students of the Month (SOM). Students are nominated by their teachers.
The Pre-K SOM is Emma Caballero. Emma is a joy to have in class, and comes to school every day with a huge smile on her face. She is very social, and loves giving high fives and hugs to all of her friends. Emma is eager to learn new skills, and has made tremendous growth this year in many areas.
The Kindergarten SOM is Jaime Herrera. Jaime is a caring and kind friend to all. He brightens everyone's day with his smile and positive attitude. He follows directions and always does his best. He works hard, stays focused and doesn't give up.
The first grade SOM is Isaac Taylor. Isaac comes to school every day with a positive attitude. He is always able to find the positive in all situations. He has excellent communication skills and uses them to be a good friend. In class, Isaac takes on every assignment and task with enthusiasm. He is determined to do his best and always does. Isaac also is able to identify areas he needs help with and can appropriately ask questions or for help.
The second grade SOM is Freya Elsass. Freya has been doing a wonderful job in second grade this year. She is kind, patient and respectful in class. Freya is a friend to all and likes to help others when needed. She stays on task and takes her time to complete her tasks correctly. Freya is a Falcon who soars every day.
The third grade SOM is Bronc Seeley. Bronc is a new student to WEMS and has settled in seamlessly.
He is very kind to others and does a great job at all assignments. It takes a lot of courage and confidence to come to a school where you do not know one person and be a shining example to others.
The fourth grade SOM is Christopher Sanders. Christopher has shown amazing growth in not only academics but in his attitude toward school as well. He has been a positive light in fourth grade and has been putting in so much effort to do what is best for himself and his classmates. All of his teachers have noticed an amazing positive shift in this young man. He comes to school with the mindset that he is capable of doing hard things. He is helpful, resilient and so silly.
The fifth grade SOM is Litzy Urias. Litzy always has a smile on her face and lights up the classroom with her positive attitude. She is always ready and willing to help her classmates, whether it is with school work they are struggling with or just to be a friend when needed. She always tries her best.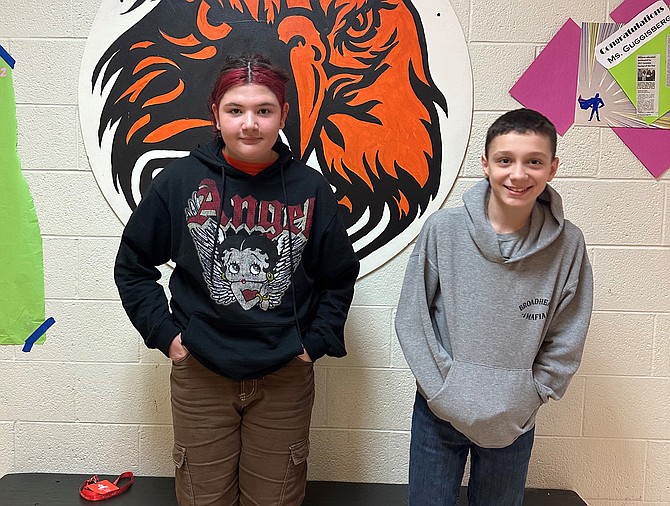 Middle School
The sixth grade SOM is Sophia Harwood. Sophia has demonstrated many of the characteristics that the sixth grade team looks for in this selection. She is conscientious with her schoolwork and homework, respectful to her classmates and WEMS staff and strives to be an engaged student. Sophia shows up to school on time, ready to learn and has a positive attitude every day.
The sixth grade SOM is Kacey MacGregor. Over the past month Kasey has shown tremendous growth in all his subjects. Although academics is not always the easiest for him, he still shows great perseverance when working through problems. His attitude towards his work and his peers has not only improved but also inspired and motivated others. Students who work with him feel encouraged and comfortable asking for help.
Information provided by WEMS.
---
SUBMIT FEEDBACK
Click Below to: