All in the family: Deanna Plasencia is the new owner of the Red Raven
Originally Published: March 14, 2023 9 a.m.
WILLIAMS, Ariz. — The restaurant business runs in Deanna Plasencia's blood. Plasencia became the new owner of the Red Raven Jan. 1. Nearly four decades ago, her mother owned a restaurant in the same exact building.
Originally from Douglas, Arizona, Plasencia moved to Williams in 1988 with her mother, Jo Eoff.
"I grew up with my mom owning restaurants, that's why we moved to Williams, because my mom bought this restaurant, but it wasn't the Red Raven," Plasencia said.
Eoff opened "Biskits n' Such," in the same building as what is now known as the Red Raven. Biskit's n' Such served breakfast and lunch.
With business slowing in Williams because of the newly newly built 40 highway, Eoff ended up selling the building.
"Business is really crazy (in Williams) now, but back then it wasn't. It died down in Williams once they bypassed Route 66 with the 40," Plasencia said. "It was a ghost town."
Jo Eoff went on to open several restaurants throughout her life.
"She'd open a restaurant every six months or so," said Plasencia. "My mom was great. She was an amazing cook and she loved people."
Surrounded by restaurants growing up, Plasencia pursued a career in the food industry.
While raising two kids with her husband, and high school sweetheart, Ralph, Plasencia managed restaurants in Williams. She spent five years managing the former Denny's and 15 years managing Pizza Hut. In 2015, Plasencia began working for the county as a cook at the senior center. Looking to make extra income, she applied to become a server at The Red Raven Restaurant.
Plasencia was hired, and began serving one night a week, all while also working at another restaurant and the senior center. What started as one night a week quickly turned into five nights a week. Over the years, Plasencia worked her way up from server, to host, to kitchen manager to general manager.
Before stepping into the position of owner, Plasencia's son Christian Plasencia passed away in February 2020. Christian was a 2015 Williams High School graduate who played football and basketball, and was loved by the community.
Despite the hardship of this time, Plasencia remembered Christian's wish.
"He told me, 'Mom, you should just buy the Red Raven. You need to stop managing and making other people money. You need to make it for yourself, because you're really good,'" Plasencia said. "That was why I even looked into buying a restaurant. That was his dream."
With Christian's dream in mind, Plasencia purchased the business and became the new owner Jan. 1. According to Plasencia, her favorite memory of the restaurant will always be the times spent working with her son.
Plasencia hopes to one day buy the building, as for now she is leasing the space from the previous Red Raven owner.
Since becoming owner, Plasencia has a few new goals but doesn't wish to change much.
"I always say, if it isn't broke don't fix it," Plasencia said. "The only thing that I see changing is maybe having a cocktail menu. And maybe changing things throughout the year to be a little more seasonal."
When asked what her favorite thing on the menu is, Plasencia responded, "It's whatever I'm in the mood for."
"If I'm ever in the mood for a steak, I'll do the New York or I'll do the fillet. On the weekends we do a fillet oscar, that one is amazing," said Plasencia. "A favorite that other people have is the grilled duck breast, that's been a house specialty for a while. Our lamb is amazing and our pastas are really good too."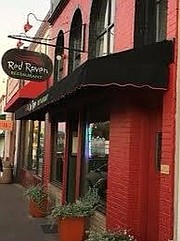 Fresh, high-quality ingredients and a dedication to handmade, from-scratch cooking are at the heart of what makes the Red Raven a local favorite. All sauces are made in house, all steaks are hand cut and everything is made fresh. Every day, cooks arrive hours before opening to begin preparation.
"I think what makes us special is we take a lot of pride in what we do. We're very consistent. We use fresh ingredients and hand cut our steaks. We don't buy the packaged stuff or get sauce from out of the can." Plasencia said.
The Red Raven is currently open Tuesday through Saturday from 4 p.m. to 9 p.m. The restaurant will be open on Mondays beginning March 20, and hopes to be open on Sundays in the near future.
Plasencia sees herself remaining the owner of the Red Raven for many years to come, and maybe one day, even passing it down to her daughter.
"I don't plan on going anywhere, I've been here for 35 years. This is home," Plasencia said.
---
SUBMIT FEEDBACK
Click Below to: