Williams Elementary School announces final students of the month
Originally Published: June 6, 2023 9:59 a.m.
WILLIAMS, Ariz. — Williams Elementary-Middle School recently announced the May Students of the Month (SOM). Students are nominated by their teachers.
The Pre-K SOM is Iris Shahlori. Iris is a joy to have in class. She greets everyone with a warm smile and a hug every day. Iris loves to dance and actively participates during music and movement time. Iris is starting to talk more in class, and she is able to communicate her wants and needs to her fellow classmates. Iris is very curious, and loves to see how objects work.
The Kindergarten SOM is Lucy Rivera. Lucy demonstrates consistent hard work, consideration of others and perseverance. Lucy has been working hard towards her academic goals in reading, writing and math. She tries her best to complete her work on her own and will ask for help when needed. Lucy walks into class with a positive attitude and a smile every day. She treats her teachers and friends with respect. Her teacher is proud of her for never giving up.
The first grade SOM is Kennedy Perdue. Her teachers are beyond proud of Kennedy and her growth as an individual and student. She has worked hard and mastered over 340 sight words this year. She has worked her way out of interventions and up in reading groups. Kennedy takes her time when doing assignments and never has to be redirected or asked to start working. She does her best work the first time. Kennedy has learned what it means to be a good friend and takes pride in being kind and respectful.
The second grade SOM Victoria Soria. Victoria's teacher is proud of Victoria's hard work this semester. She moved from the red reading group to the yellow group and is consistently scoring 100% on her spelling words. Victoria is friendly and helpful with all her peers and especially her teacher. She makes sure that the students at her pod are on task and following along. She is quick to help with questions from peers about the class assignments or tasks. Victoria always turns in her homework and Friday work. She is responsible and respectful, the way a Falcon who soars should be.
The third grade SOM is Bella Rocha. Bella always has her assignments done to the best of her ability. She is responsible in all ways. If you are looking for someone to be a good friend, just look her way and you have found someone to be kind to you on any day. Bella is a good example to those around her in all ways. She represents all the pillars of character! Her teacher can count on her to be doing what she is supposed to be doing, in spite of what may be going on around her. Bella always writes kind notes on her papers that her teacher finds when she is grading them, brightening up her day.
The fourth grade SOM is Autumn MacArthur. Autumn is a sweet young lady who greets her teachers each morning and afternoon with a smile and kind words. Being kind is just part of who she is and how she treats others. Autumn actively participates in class and does an amazing job on all her work without expectation of reward. She is an amazing example of someone who gives grace and sees the best in those around her. When faced with difficulties, uncomfortable situations or unfamiliar territory, her teachers can always count on Autumn to do her best with a smile. If more people approached life with the positive and kind attitude of Autumn, the world would be so much better off. She is a true joy and a ray of sunshine.
The fifth grade SOM is KC Seeley. KC came to WEMS brand new this semester. She is extremely diligent about her work and strives to always do her best. KC takes pride in her school work and never misses an opportunity to improve her grades by doing any and all re-dos she may receive. She has become a good friend to so many in our classroom. KC's positive demeanor is infectious and greatly appreciated by all.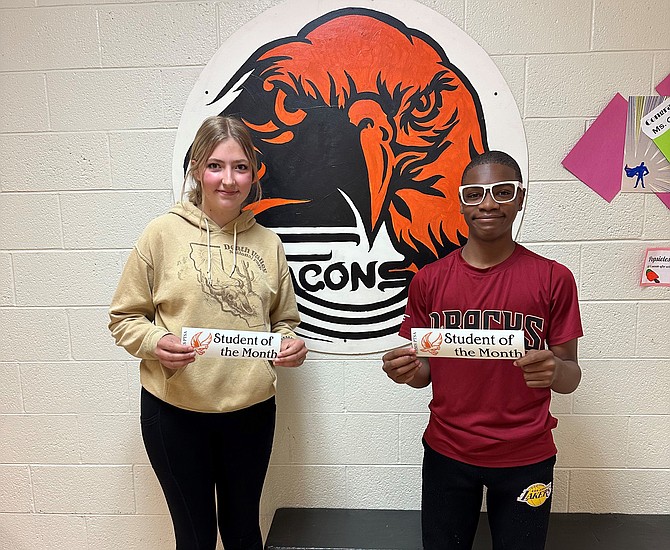 Middle School
The eighth grade SOM is Kadence Ironside. Although Kadence is a newer member of the WEMS community, she has truly shown herself as a light of calmness, stability and positivity. In the middle of the constant chaos that is middle school, there is Kadence. Her sometimes inscrutable Mona Lisa grin undoubtedly hides myriad inscrutable emotions, yet she manages to make her teacher's lives easier simply by being present. In class, she is earnest in her work ethic without being nose-to-the-grindstone. She is always willing to work with someone who is struggling, and her calming presence predictably eases many academic frustrations.
The eighth grade SOM is Joshua Rue-Wilber. Joshua has shown incredible improvement from the beginning of the school year. He is more focused in class, he is so kind to fellow peers and he is always inclusive and supportive with other students. Joshua has been respectful and kind towards teachers and has expressed a drive to take school and academics seriously. He always has such a fun, positive attitude in class and teachers look forward to seeing him walk into the classroom.
Information provided by WEMS.
---
SUBMIT FEEDBACK
Click Below to: