EV truck: A new way to travel Route 66
Originally Published: January 24, 2023 9:37 a.m.
PARKS, Ariz. — With the centennial of Route 66 just down the road, Alan Winninger hit the open highway to raise awareness for electric car chargers on the Mother Road.
Back in December, Winninger acquired a Ford F-150 Lightning all-electric truck and drove the 2,500 miles of Historic Route 66 beginning in Chicago and ending in Santa Monica.
Winninger stopped at the Parks in the Pines Deli and Cafe in Parks, Arizona on his journey to share about his journey.
"I've really wanted to do this, be the first EV truck to drive Route 66," he said. "It's been so hard to get the truck, it took us 6 months to get the truck. We just happened to find this one."
Winninger is on a two-fold mission: to raise awareness for the Route 66 Centennial and highlight the need for additional electric vehicle chargers on the route.
"We really want to raise awareness of EV charging, accessibility, the functionality and the green of driving of electric vehicles," he said.
Winninger had been on the road for over a week in the truck and hadn't encountered any major problems.
"I didn't get to a point of being desolate and not having any access," he said.
The Ford F-150 Lightning can travel about 320 miles between charges.
"With just two or three charges, I can be in California," Winninger said. "The navigation system tells you where you charge, it shows me where I'm at and how far I have to go to the next charger. It maps it out."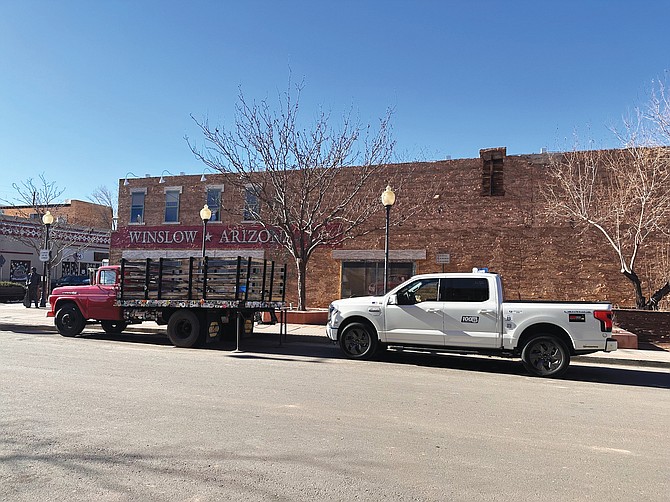 On Dec. 29, President Joe Biden announced his intent to appoint individuals to serve as members on the Route 66 Centennial Commission. The Route 66 Centennial Commission was established by Congress to study and recommend in a report to Congress activities that would be fitting and proper to celebrate the centennial anniversary of the Mother Road, Route 66, in 2026.
The mission of the commission is to plan ways for the federal government to honor Route 66, which will include ceremonies, media releases and developing commemorative items.
Winninger said he is working with the Department of Energy and driveelectricusa.org to help increase electric vehicle usage and the placement of chargers.
The Infrastructure Investment and Jobs Act, also known as the Bipartisan Infrastructure Bill, recently made $5 billion available for the deployment of publicly accessible electric vehicle (EV) chargers nationwide along roads that states select as alternative fuel corridors. The goal is to deploy a network of EV fast chargers to create a convenient, affordable, reliable and equitable network of chargers.
Over the next five years, Arizona is set to receive $76.5 million in federal dollars through the National Electric Vehicle Infrastructure (NEVI) Formula Program to establish publicly accessible EV charging stations along Arizona's designated alternative fuel corridors, which are currently the interstate highways, according to the Arizona Department of Transportation.
Read more about Winninger's experience at route66centennial.us.
SUBMIT FEEDBACK
Click Below to: