Cosmos to Canyon floor: Mark Chen begins art residency at Grand Canyon
Artist-in-Residence Mark Chen explores the depths of cosmic, geological time through photography
Joseph Giddens, Williams-Grand Canyon News
Originally Published: January 24, 2023 9:40 a.m.
GRAND CANYON, Ariz. — Grand Canyon National Park's newest Artist-in-Residence Mark Chen has been passionate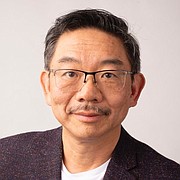 about photography for his entire life. He's also an avid astrophile.
He is living and working at the Grand Canyon through its non-profit partner, the Grand Canyon Conservancy, Jan. 21 through Feb. 26. Chen will be providing educational programming and working on his ongoing photography project, "Pilgrimage of Light," during his time at the park.

"Chen is a photographic artist, educator and author," said the Grand Canyon Conservancy in a press release. "His practices center on the visual discourse on science and environment. He crosses media boundaries, often collaboratively, from photography to other visual art, sound art, creative writing and performance. He aims to evoke feelings that can bring about change of thoughts and behaviors."
Chen vividly remembers growing up in Taiwan and looking up at the sky through a telescope given to him by his father from a trip to the United States. He felt very touched and it gave him a desire to learn more about the night skies. He began to merge his two interests early on by connecting a camera to that telescope, despite it not being designed for photography — building things to serve his projects has since been a lifelong trend.
He followed his brother from Taiwan to the United States in 1990. The duo were working together in Houston's "vibrant district of wholesales" at their import-export business, focusing mostly on consumer products and electronics.
"I helped my brother in expanding (his) business from the United States to Latin America and became quite familiar with that region and did a lot of travel," Chen said. "I've had a lot of twists and turns in my career to end up in photography. But Houston has been great for my career as an artist; also, my wife's a musician and her career is very locally-based."
The two eventually dissolved the import business and Chen switched to computer consulting until the dot-com bubble of the late '90s. Then, at a friend's suggestion, he started operating a commercial photo studio specializing in event and wedding pictures around 2002.

"I practiced commercial photography until about 2008 when we had the business downturn and the studio business was impacted," he said. "Eventually, I directed myself into fine art and stopped the studio's operation and went back to school and got an MFA, rather late in my lifetime. But it was worth it and I never regretted it and my career in fine arts took off."
Chen teaches photography at the University of Houston's School of Fine Art; beyond techniques and operating equipment, one of the major lessons he stresses is practical interpersonal skills between creatives and business owners.

"If you watch movies about artists they're always late (and) they're not responsible. Those are the ones that will fail because as artists, you need to deal with galleries and museums and deliver what you promise," he said. "These are not different (from) any other life skill and I feel that's lacking, generally speaking. We will always need to work with people, that's what I tell my students."
Chen will be continuing work on "Pilgrimage of Light '' during his residency. The project involves Chen projecting images of the cosmos onto public land sites. What makes the project unique is how Chen aligns two mysteries - the sheer amount of space light crosses on the galactic level and the deep time of geology.
"I was just in Yellowstone National Park projecting images of Saturn on the mist of Old Faithful because Saturn's light takes an hour and a half to reach us on Earth and Old Faithful's period of eruption is the same," he said. "I'm going to carry on with this project at the Grand Canyon. The James Webb Space Telescope has already captured so many images and many of them fall between 200 million years to 2 billion years old, which is about the time span between the top layer to the bottom of the Grand Canyon. So I'll have a lot to work with."
Getting to this point took "do it yourself" initiative. Chen constructed a flash projector based on the idea that there's no structural difference between a camera and a projector. By inverting the function of his film camera and placing a slide where the film once was and then using a flash to backlight, he's able to make a fairly lightweight, 35-pound setup to make his art.
"I'm not religious, but I'm very spiritual," he said. "I think appreciation of the mystery of our universe makes a person more spiritual. With our short lifetimes here at the end of those (billions) of years, if we look at the universe and we appreciate this little instance of beauty. If a person is more aware of that, they probably will take care of the environment better."
See more of Chen's work across the national parks here.
SUBMIT FEEDBACK
Click Below to: