Young Life gears up for new year in Williams
Originally Published: January 17, 2023 10:39 a.m.
WILLIAMS, Ariz. — Williams Young Life returns for 2023 with staff eager to continue reaching out to the youth of Williams with weekly meetings that are filled with fun games, friendships and the gospel.
Young Life's mission is to introduce adolescents to Jesus Christ and help them grow in their faith, which they do through building relationships and walking through the school year with them.
However, having a religious belief is not a requirement to be involved with Williams Young Life. In fact, all students, regardless of belief, are encouraged to join.
For Area Director Drew Tomajczyk, the goal is to create authentic relationships and provide support to all youth.

"Even though it is an outreach ministry, a lot of the kids don't have any faith background at all. It's open to anyone. Every single kid that goes to Williams high school or middle school is welcome," Tomajczyk said. "It is all about relationships. Building relationships, building trust and being a support system regardless if that's faith or not."
By forming positive relationships with the youth, Williams Young Life aims to be a positive voice and figure in children's lives.

"We want to be a part of the community and help kids who can't help themselves. There's a lot of need of parental figures in their life," Tomajczyk said. "We can back up the teachers that are already doing such a good job and back up the parents that are trying their best. Just to have another voice in their life."
Tomajczyk and other employees from the organization regularly visit the schools, attend school sporting events, visit youth at home and are there to cheer them on through life.
"It is so relational. I've never wanted it to feel like super unauthentic. I feel like what we do best is we're authentic," Tomajczyk said. "This is who we are. We're going to love kids no matter who they are."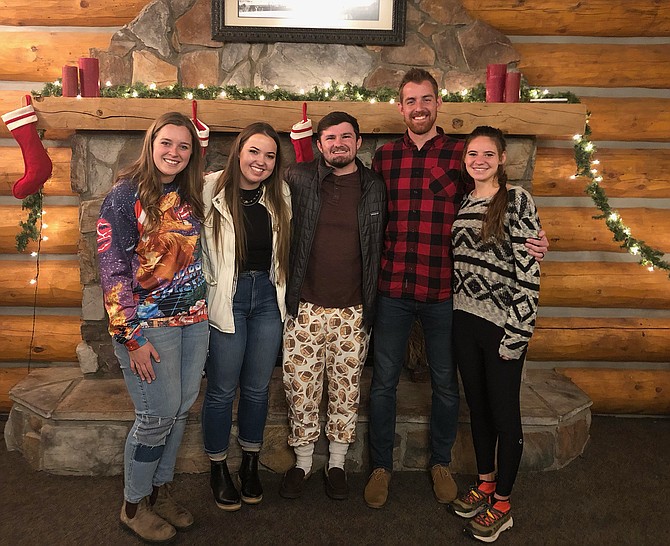 The organization strives to be a resource for the Williams community. For example, the school often reaches out to Young Life for help running the ticket booth at games and help supervising lunch at the elementary school.
Williams Young Life invites high school and middle school students to meet at their free weekly meetings called "Club."
With music and games, these meetings are commonly referred to as "parties with a purpose," allowing youth a safe space to hang with peers, socialize and have fun. The meetings are closed out with gospel and then the group regularly hangs out at a restaurant in town afterward.
Young Life club for middle schoolers is called Wyldlife.
Meetings for the 2023 year will begin in February. Dates and times are regularly posted on the Williams Young Life Instagram @younglifewilliams.
In addition to sharing the gospel and providing a safe environment for youth, the organization also offers the opportunity for kids to go to camp. They currently offer winter and summer camp for high school and middle school students.
"We have to fundraise all of that because a lot of kids can't pay 300 or 400 dollars to go to a week-long camp," Tomajczyk said. "In the seven years that I've been working with young life I've never turned down a kid for money reasons, and I'd say 90 percent have some kind of need."
The camp holds numerous fundraises, including hosting their annual steak dinner auction, having bake sales and planning state-wide raffles to ensure that every interested child is able to attend the program.
"I would just hate for kids to want to go to something like this that could be good for them spiritually or even just emotionally for their lives. If money's the only problem that that just seems like a bummer to me," Tomajczyk said. "A lot of my job as the area director is to make sure that isn't a problem and to do the fundraisers and set up ways that people can hear about it and can support it so that kids can go. It's all based on people being generous and believing in it, and believing in kids and giving back."
Young Life's high school camp is May 29-June 3, and the Wyldlife Camp is June 10-14.
The Steak Dinner Auction is March 5.
The organization is seeking volunteers. Anyone interested can email lostcanyon@lc.younglife.org.
"We're always in the need of volunteer leaders. The only two non-negotiables to me are: do you love Jesus? And do you love kids? And if you love those two things I can teach you the rest," Tomajczyk said.
---
SUBMIT FEEDBACK
Click Below to: