Bureau of Rec alters Glen Canyon Dam to provide water for local Page community
Originally Published: January 17, 2023 8:48 p.m.
PAGE, Ariz. — Fulfilling their agreement to take care of the residents of Page, Bureau of Reclamation crews at Glen Canyon Dam recently completed a new water intake connection to accommodate the low water levels at Lake Powell.
With the completion of the project, the water delivery system can now draw water from Lake Powell at three different elevations: the main intake at a reservoir elevation of 3,480 feet; the backup which taps into two penstocks and can access water at elevation 3,462 feet; and the latest and lowest intake which taps into two bypass tubes and can access water as low as 3,362 feet.
These efforts ensure water will be delivered to the city of Page and the LeChee Chapter of the Navajo Nation even if Lake Powell drops to 3,370 feet. Elevation 3,370 feet is known as "dead pool" and is the point at which no "excess" water can be passed through the dam, only the volume of water that enters the reservoir will be able to be delivered downstream.
"Working with personnel from the city of Page and the LeChee Chapter, we started looking for solutions," said Reclamation Upper Colorado Basin Region Deputy Power Manager Bob Martin. "Our engineers and mechanical crews explored a number of possible options, and we came up with a relatively easy solution to a potentially large problem for the people who rely on this water source."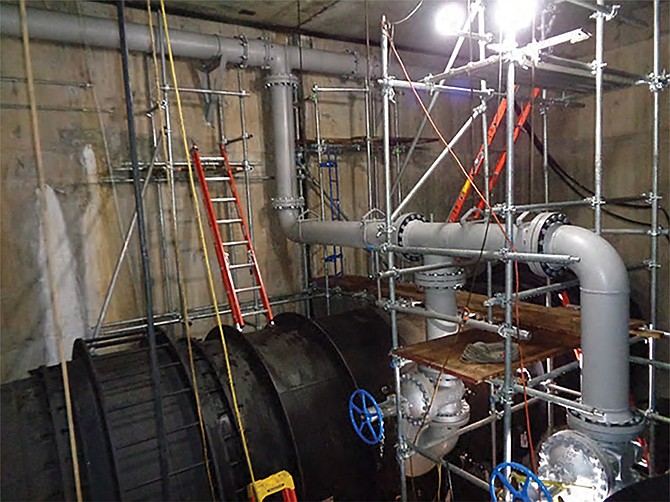 Lake Powell's elevation is expected to drop to a post-filled, all-time low, 3.522 feet, before the end of the month and projections show that this year it is at risk of dropping below the minimum power pool, 3,490 feet, which is the lowest point the dam can currently generate hydropower.
The increased risk to Lake Powell's water level also raised concern about the stability of the local water supply.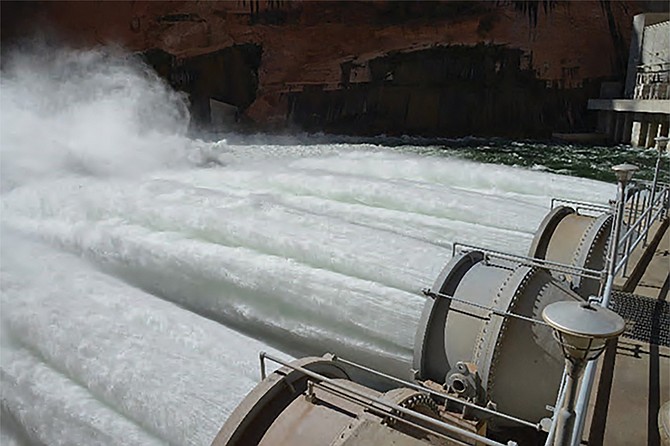 The city of Page was first established in 1957 for workers who were constructing Glen Canyon Dam. In 1975, Page became a municipality, which prompted an agreement with the Bureau of Reclamation to deliver raw water from Lake Powell to their municipal water system, which now delivers treated water to the area's 7,500 residents, the Navajo Nation community of LeChee, and the local businesses that serve an estimated three million tourists each year.
This latest intake was made possible through an extension of the original water agreement with the city of Page. Crews at Glen Canyon Dam started construction in October and completed the project in December 2022. The city provided the supplies and paid for the labor.

"The design and construction of this project is proof of Reclamation's commitment to addressing prolonged drought and critically low reservoir levels," said UCB Regional Director Wayne Pullan. "We face the impacts of aridification together. The lower water intake at Glen Canyon Dam provides additional water security—the promise of a continued dependable and reliable water supply."
---
SUBMIT FEEDBACK
Click Below to: