Williams Elementary-Middle School announces December Students of the Month
Originally Published: January 3, 2023 11:37 a.m.
WILLIAMS, Ariz. — Williams Elementary-Middle School recently announced the December Students of the Month (SOM). Students are nominated by their teachers.
The Pre-K SOM is Miles Cureton. Miles is such a joy to have in class. He comes in every day with a bright smile that lights up the room. Miles has a big imagination, and enjoys exploring all of the classroom centers. He is a great friend, and always the first one to help a classmate when they are sad.
The Kindergarten SOM is Mia Ramos. Mia always wants to learn and work hard. She is working extra hard to meet and exceed her academic goals and always displays beautiful handwriting and coloring. She is a reading rock star and now she always has a smile on her face when she arrives to school in the morning! She is a good friend and very helpful to everyone in her class. I am very proud of Mia and her accomplishments in kindergarten so far this year.
The first grade SOM is Luciana Martinez Ramos. Luciana is pure joy in the classroom. She comes to school with a huge smile on her face every day. She loves to help others and make new friends. She is new to our school this year. She has made so much progress in the classroom. She works really hard and is always eager to learn new things. Even when something is hard for her, she never gives up. She just keeps working until she gets it. I am so proud of you Luciana. Keep SOARing.
The second grade SOM is Hunter Bremer. Hunter works hard, stays on task and is a great student. He is helpful and kind. He is organized and learns from his mistakes. Hunter works to be safe and accountable each day and stands up for what he believes in. He shows up to school with a positive attitude and desires to be the best he can be each day. He is growing in his communication and works diligently, even when it is hard. We are very proud of Hunter and excited to present him with this award.

The third grade SOM is Tiffani Salazar. Tiffani has been growing so much this year. She has really shown that putting in extra work helps in being successful. She is always ready to answer questions and not shy to come ask questions either. She is also ready to help in any situation. She is a friend to so many. I look forward to watching her continue to do great things. Great Job in being an example of a SOARing student.

The fourth grade SOM is Veronica Martinez. Veronica has shown so much perseverance this school year! We love her quiet, sweet spirit and her loveable self. She listens intently in class and works hard to complete anything thrown her way. She strives to get the correct answer, even if that means taking longer to think things through. She is a great role model to her fellow classmates and follows all expectations daily. Keep up the amazing work, Veronica.
The fifth grade SOM is Josiah Silverstein. Josiah provides a unique perspective on many topics and keeps us on our toes with his out-of-the-box thinking. He is kind, empathetic and hardworking. Josiah gets all of his assignments completed on time and is great about asking questions or extra work time when needed. He is quick to apologize if he makes a mistake and tries his best to make everyone feel included in activities. We are so glad to have Josiah in our class this year!
Middle School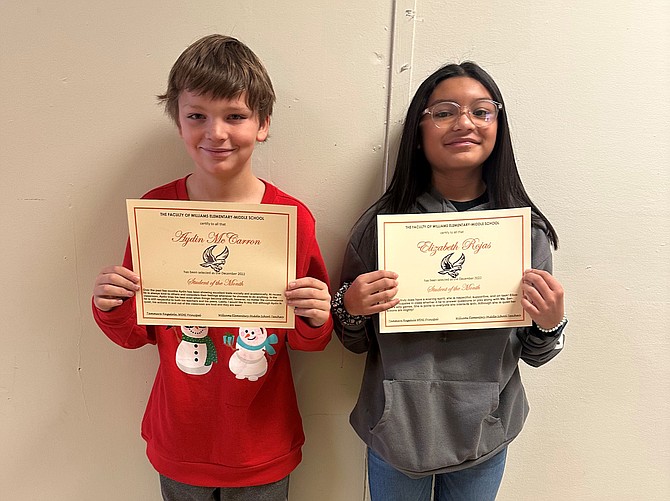 The sixth grade female SOM is Elizabeth Rojas. Elizabeth truly does have a soaring spirit; she is respectful, supportive and on task! Elizabeth participates in class whether it be to answer questions or play along with Ms. Serrano's silly games. She is polite to everyone she interacts with. Although she is quiet her actions are mighty.
The sixth grade male SOM is Aydin McCarron. Over the past few months, Aydin has been showing excellent traits socially and academically. At recess he is always kind to others and considers their feelings whenever he chooses to do anything. In the classroom, Aydin tries his best even when things become difficult, however, no matter the circumstance he is still respectful to both his teachers and his peers. Lastly, I would like to say that although Aydin is quiet, his actions in and out of the classroom are loud and they are seen.
Information provided by WEMS.
---
SUBMIT FEEDBACK
Click Below to: