Learning all about coffee, just one sip at a time
Originally Published: February 28, 2023 11:29 a.m.
WILLIAMS Ariz. — An essential beverage in many morning rituals, a trusty cup of Joe can bring comfort and warmth to its consumers.
Led by a few "coffee celebrities," The Stampede coffee shop in Williams hosted a coffee tasting Feb. 21.
Historically, The Stampede in Williams was used as an autoshop for many decades. Recently, it has been refurbished into a space to showcase visual, musical and culinary arts.
The coffee tasting was led by Patrick O'Malley. Nicknamed the "coffee guru," O'Malley is an Arizona native who founded Espresso Italia in 1998. Today he is the owner of Espresso Italia Brands, which operates Espresso Italia, Infusion Coffee and Tea, LiquidTech and the International Barista and Coffee Academy.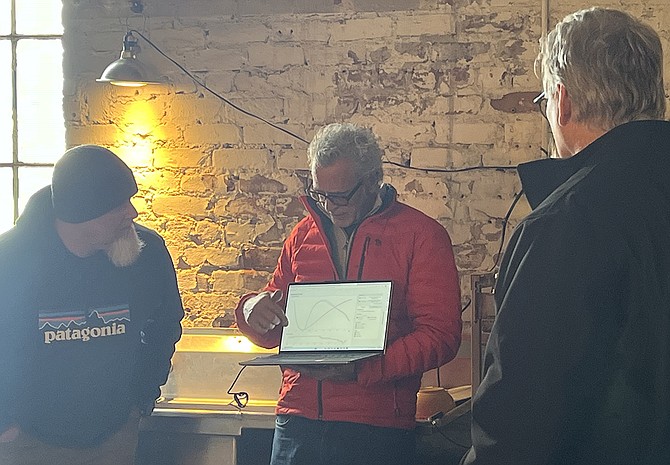 Also participating in the event was Mauricio Shattah. Originally from Columbia, Shattah is a top rated coffee farmer. Once an esteemed radiation oncologist who served more than 20 years at his own medical practice in Botoga, Shattah retired to pursue his career in the coffee industry. He bought a farm to produce his own high quality coffee beans and founded one of Colombia's first specialty coffee roasting companies. Shattah is known for applying his scientific and medical background in producing exceptional coffee.
During the event, community members participated in what is known as coffee cupping. This process involves tasting several coffee roasts in order to score and profile based on a combination of tasting notes, aromas and even how the coffee feels in the mouth.
Participants first sniffed the various coffee grounds, then sniffed the coffee grounds combined with hot water, and finally tasted each roast.
One of Shattah's featured coffees at the tasting was a competition coffee that was a winner at the International World Baristas Championships. Shattah has won four of the last six of these championships.
Although many are unfamiliar with how much science and technique can go into a cup of coffee, O'Malley and Shattah prove it is anything but simple. There are many elements used by professionals in curating a unique and delectable cup of coffee.
---
SUBMIT FEEDBACK
Click Below to: