Guest column: Finding love at Grand Canyon National Park
Ranger Doug Crispin and his wife, Donna, shared a lifetime of love for the national parks and each other
Originally Published: February 28, 2023 10:57 a.m.
"I was a National Park Ranger in a small National Monument located in southeast Utah. Donna was a wilderness ranger with the Bureau of Land Management. She lived in a run-down government trailer located in my park's tiny housing area.
Living and working in my park, 40 miles from the closest town, didn't allow me a lot of options on the dating scene. When Ranger Donna moved into the park, I quickly saw that she might be a good match for me. We were about the same age. Both shared a love of hiking, camping, wildflowers and outdoor photography.
She had recently spent two summers working as a fee collection ranger at the Grand Canyon in Desert View. When she shared this fact with me, I said "I too worked at the Grand Canyon — 10 years ago in 1969. When I was just a punk high school kid. Age 17. I love the Grand Canyon." We had yet another thing in common.
We also both were interested in local Native cultures. So I asked her out on a date.
"The Crown Point Navajo Indian Rug Auction is coming up. It is in New Mexico and is only held 10 times a year. Would you like to go? We could stop by Chaco Canyon National Monument." Donna agreed. "I'll drive" I said.
We both had Wednesdays and Thursdays off work. The rug auction was on a Friday night. We both worked weekends. She was able to take Friday off work, as did I. However, we were both on the hook to return to the park Friday night. We had a mutual park ranger friend who worked at Chaco Canyon. He agreed to put us up before the rug auction.
With plans in place, we loaded our gear into my 1959 pickup truck. Off we went to explore Chaco Canyon. In 1979, Chaco Canyon was isolated by dirt-road access only. A rough 20+ mile dirt road, if there were no recent storms to muddy-up the road, allowed access from the north. Another 20+ mile dirt road would take us south the Crownpoint Rug Auction. We made it into the park Wednesday and spent two days hiking and exploring the largest ancient stone villages in North America.
Thankfully the Chaco dirt access roads remained passable, and we safely made into the small community of Crownpoint in time for the Auction. After wolfing down a Navajo Taco dinner, we sat down and enjoyed the Auction. Professional buyers and gallery owners from Santa Fe, Denver, Phoenix made up about one half of the audience. Serious private buyers and rank amateurs (like Donna and me) made up the rest.
The auction ended about 10 PM. Careful to keep below the one hundred dollar allowance we set for ourselves (based on our meager government ranger salaries); we each bought a small rug.
I recall it was a long 4 ½ hour drive, lit by moonlight, as we were traveling across the remote Navajo Indian Reservation, to return to our home park. Donna slept with her head on my lap on the truck's oversized bench seat, while I motored on.
A month later, I got accepted to attend the National Park Ranger school at the Grand Canyon. I moved there for two months. Every Wednesday and Thursday, Donna would drive 250 miles (one way!) to come visit me at the Grand Canyon.
We continued dating for a few years. Backpack trips to explore southwest canyons. A winter ski trip to Yellowstone. A 23-day raft trip through the Grand Canyon. Finally, I got up the nerve, and asked her to marry me. She said YES!
We got married at Shoshone Point on the South Rim.
It was a small wedding - about 30 friends and family. After the wedding, we drove to Cameron, AZ on the Navajo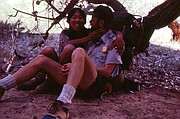 Reservation, ate our first meal together as a married couple (another Navajo Taco), then drove to the North Rim for our first honeymoon night together.
Donna later quit her ranger career and became a teacher's aide. This gave her more time for her art interests. I remained in the park profession but changed to Oregon State Parks. We started a family in Oregon. Bought two houses over the years. Donna became the accomplished basket weaver and fiber artist.
When it was time for her to retire, we started making couple plans. She died suddenly four months later. I spread her ashes in the Pacific Ocean, along our favorite spot on the beautiful Oregon Coast.
Every year, around our anniversary date, I try to make a visit to Shoshone Point. Sit out there on the rim by myself. Say a silent prayer to Donna. A thank you for our 40 wonderful years spent together.
When I retired from full-time rangering, I returned to the National Parks as a summer seasonal ranger. This coming summer will be my 4th consecutive year working as an Interpretive Park Ranger on the North Rim.
Whenever I am along the canyon rim, I carefully look across to the south. I try to find Shoshone Point. It just makes me feel good inside whenever I can spot it. I think of Donna."
---
SUBMIT FEEDBACK
Click Below to: