Aging gracefully: At 104, Grand Canyon National Park proves beauty is timeless
Originally Published: February 28, 2023 11:01 a.m.
Happy Birthday to Grand Canyon National Park! Today, we celebrate 104 years of the National Park Service preserving and protecting one of the world's most awe-inspiring natural wonders.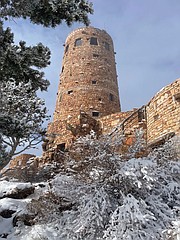 Over the past century, the National Park Service has worked tirelessly to protect the park's resources, to maintain trails and facilities, and to make Grand Canyon accessible to millions of visitors from all around the globe. But we also acknowledge that the park's history extends far beyond the past century.
Since time immemorial, Indigenous Communities have lived on and cared for these lands. Unfortunately, their access to the canyon was restricted during the park's early days, and many were forcibly removed. The National Park Service recognizes the injustices of the past and is taking steps to make amends and ensure that the park is accessible to all.
This includes working closely with our Tribal Neighbors to incorporate traditional ecological knowledge and practices into park management, partnering with Indigenous Communities to promote cultural exchange, and creating interpretive centers to recognize the park's Indigenous History, where Tribal Members can share their stories and culture with park visitors.
As we celebrate Grand Canyon National Park's birthday, let's also celebrate the progress we've made in recognizing the park's full history and the steps we're taking towards a more just and equitable future. We hope that future generations will continue to cherish and protect this natural wonder for many years to come.
---
SUBMIT FEEDBACK
Click Below to: