Sensational win: Williams Vikings soccer captures first-ever win
Williams Vikings soccer captures first-ever win
Marylin R. Sheldon
Originally Published: August 29, 2023 8:35 a.m.
WILLIAMS, Ariz. — The drought is over.
After their first two winless seasons, the WHS co-ed high school soccer team posted their first-ever win last Saturday. They defeated Flagstaff BASIS at home, 4-1.
WHS Coach Christi Endicott, was elated after the win. So were the players, who dumped a cooler of water over their coach after the final whistle.
"Two years of hard training paid off," Endicott said. "It's a great feeling to start off the season with a win. From this time last year until now, the improvement's been huge. We can't measure success from a scoreboard. We are building a team from sctratch for the future."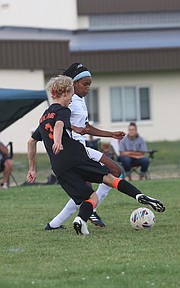 Offensively, Cody Daly, one of four team captains, scored two of the team's four goals. Fern Chatters, another captain, and Tahner Hausmann each contributed a goal.
"Cody is a great leader," Endicott said. "He has great field awareness, and is one of our strongest players. Midfielder Fern (Chatters) is a humble, quiet leader, and is always looking for ways to make the team better.
Sophomore Tahner Hausmann has shown great improvement, and got us started with that first goal."

Defensively, senior goalie and captain Trevor Hausmann had an outstanding game, Endicott said. He had 12 saves throughout the match.
"He's fearless and aggressive," she said. "His hard work paid off in this match. He's always looking for ways he can improve."
"The entire team really hustled and played very well," she said. "Amanda (Burlington) had several good shots that just slightly missed the goal. We can't win if we don't score. Those were good shots. Sammy (Amaya) and Jaden (Sanchez) moved up from the middle school this year. They both have a huge impact on the team."
"Mary Margaret Moore, has made a lot of improvement from last year. She's stronger and braver, and has developed her skills. The girls have to be brave to go up against the boys in this sport. Our girls do a great job of going up against the boys, they're fearless."
Mikey Scott, the team's fourth captain, is noted for the encouragement he provides to the entire team. He always gives his best, whistle to whistle, Endicott said.
Striker Brian Arredondo is one of the team's best hustlers, and hustles throughout matches and practice, she added.
Jeff Brownlee, WHS athletic director praised the team's progress.
"Christi Endicott has a lot of passion and excitement for the game," he said. "These kids believe in themselves. They're fun and exciting to watch."
The team's next match is Aug. 31, the team travels to Ash Fork to play the Spartans. That match has a 4 p.m. start time.
---
SUBMIT FEEDBACK
Click Below to: