Lady Spartans nab win over Bagdad Nov. 16
By Marilyn R. Sheldon
Originally Published: November 22, 2022 9:49 a.m.
ASH FORK, Ariz. — Ash Fork High School girls varsity basketball team was off to a good start, with a 32-25 win over visiting Bagdad Nov. 16.
On Nov. 19, the team took on Rock Point, and lost to the visiting Cougars, 25-51.
Despite having mostly young players as starters, Coach Sonny Martin was pleased with the team's performance. Olivia Johnson and freshman Gracie Staples played well in post positions. Johnson led all scorers with 12 points, and had three steals. Staples added 11 points and pulled in three rebounds. Jamie Keele also had three boards.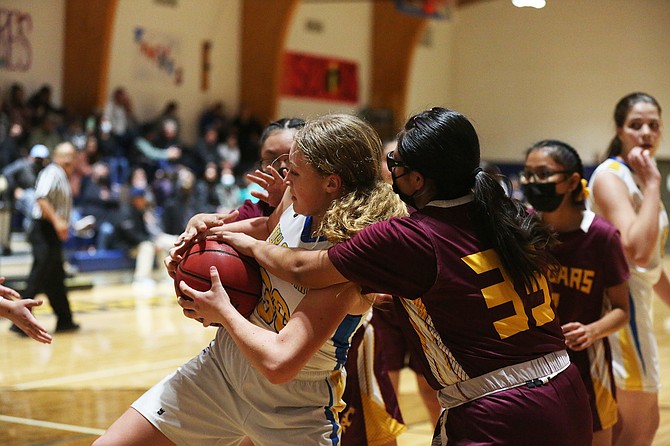 "For our first game, it went really well," Martin said. "Our two big girls (Johnson and Staples) played well, as did point guard Paola Acosta. The whole team is coming along nicely. This was the first time we used a full court press, and the girls handled it well."
The junior varsity team was also victorious, posting a 30-0 win over the Sultans.
Nov. 19 was a different result for the Lady Spartans. They faced an older, more experienced Rock Point team.
"We were outskilled, but we never gave up," Martin said. "We broke their press, but did commit 23 turnovers. Gracie (Staples) and Olivia (Johnson) need more experience in the post positions."
Keele was in foul trouble early, which left Staples as the main rebounder. She collected 15 rebounds, while Johnson added six. Acosta had six steals for the game.
In junior varsity action, the Lady Spartans bested the Cougars 28-10.
SUBMIT FEEDBACK
Click Below to: