Ash Fork boys face Bagdad, Rock Point last week
By Marilyn R. Sheldon
Originally Published: November 22, 2022 10:04 a.m.
ASH FORK, Ariz. — Ash Fork boys' basketball team opened its season, Wednesday, Nov. 16, with a decisive win over visiting Bagdad, 57-37.
Coach Sonny Martin praised his players.
"All of our starters, and two of our bench players scored," he said. "Our defense really stepped up. We have three starting seniors, and I expect the whole team to improve. We want to be in the top three in the region."
Gabe Zeller led all scorers with 18 points, and Domitillo Ayala added eight points and six rebounds. Hugo Mendez had a solid performance and pulled in nine rebounds.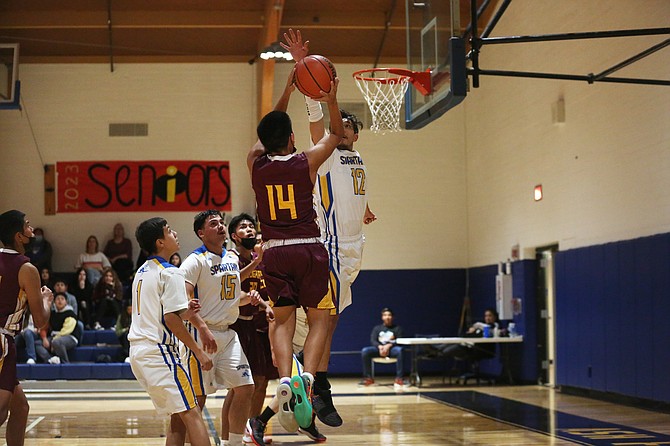 The junior varsity won in overtime, 37-33.
In action at home Nov. 19, the boys faced a run-and-gun Rock Point offense which ended with a 60-34 Spartan loss.
"We were flustered with the press," Martin said. "This was a really tough team, hopefully we learned something from the loss. Rock Point has a very experienced team, four of their starters are seniors."
Zeller again led the scoring, with 15 points. Josue Tellez had six points off the bench, Luis Ayala pulled in three rebounds, and Domitillo Ayala had five assists.
In junior varsity action, Ash Fork posted a 35-29 overtime win.
---
SUBMIT FEEDBACK
Click Below to: