Grafitti, housing discussed at Nov. 10 council meeting
Originally Published: November 15, 2022 11:25 a.m.
WILLIAMS, Ariz. — Concerned about the recent graffiti in the community, Kerry-Lynn Moede of the Kiwanis Club spoke at the Williams City Council meeting Nov. 10.
Moede told the councilmembers she had recently recorded 17 separate locations with graffiti on the east side of Williams. She suspects 13 of the 17 graffiti marks were done by the same person.
In an effort to resolve the problem quickly and prevent more graffiti to come, Moede said the Lions Club is considering offering a cash reward for information regarding the graffiti.
Williams Police Chief Tad Wygal said anyone with information about the recent graffiti can report it to the Williams Police Department.
Wygal said the department has already taken action to remove some of the graffiti.
Williams resident Eric Eikenberry spoke to the council regarding his concerns about the misuse of William's trademarked phrase "Gateway to the Grand Canyon."
Eikenberry reminded the council that the phrase is a registered trademark of the city of Williams, but he noticed that many of the city's billboards and signsuse the phrase without the required "R" trademark.
Eikenberry urged the council to utilize the "R" or the city runs the risk of losing the trademark.
During the regular session, council approved funds to conduct a housing study for the city of Williams.
"As housing has become an issue, it has come to our attention that any kind of housing solution that could nvolved federal or state grants, including city imporvements and additional infrastructure would require a housing study," the city said in a statement.
In other council news: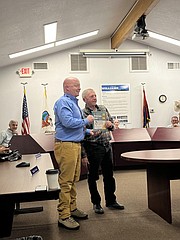 The The Arizona Department of Environmental Quality (ADEQ) recognized the city of Williams for demonstrating strong environmental compliance for the past three years.
The city is part of ADEQ's Voluntary Environmental Stewardship Program.
City council approved an ordinance to establish a program to charge mitigation rates for the deployment of emergency and non-emergency services by the fire department effective immediately.
The council also approved a liquor license for the new Maverik gas station.
SUBMIT FEEDBACK
Click Below to: