Lady Vikes claim runner up after tough loss to Rock Point at state finals
Marilyn R. Sheldon
Originally Published: November 8, 2022 9:16 a.m.
SCOTTSDALE, Ariz. — "I'm so proud of my girls," Coach Connie Stevens said, after her Lady Vikings took second in the 1A Arizona High School Volleyball Championships Nov. 5.
The top-seeded Vikings started state play with a quarter final win over Fort Thomas, Nov. 1, at Coronado High School in Scottsdale. The scores for the match were, 25-13, 25-7, and 25-12. The team posted 35 kills, and four blocks. Rory Stevens contributed 30 assists for the match.
Next up for the Lady Vikings later in the day was Cicero Prep. The girls handily defeated Cicero, with scores of 25-11, 25-21, and 25-13. The team totaled 38 kills, and four blocks. Stevens tallied 35 assists in the match.
Saturday's championship match was against Rock Point. The match went to five sets, with Rock Point emerging as the 1A State Champion. Rock Point took the first set, 25-16. Williams countered with a 27-25 win in the second set, and a 25-22 victory in the third set.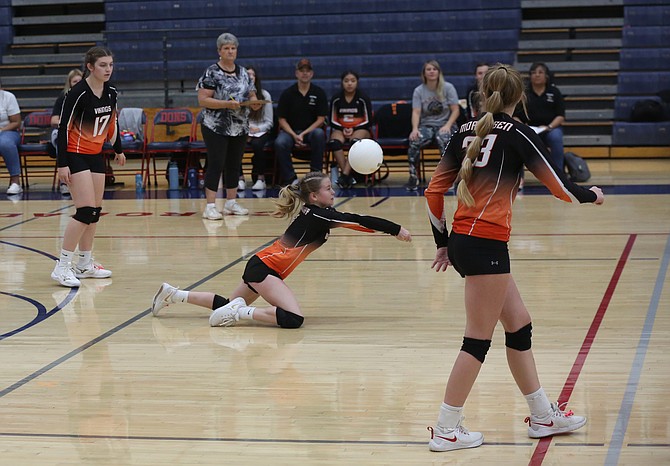 The tie breaker was close, and tied at 11. Rock Point then ran the next four points to secure a 15-11 win, and the State 1A Volleyball Championship.
Shaelee Echeverria, led the hitting corps, with a total of 33 kills for the match. Kai Mortensen added 25 kills. Stevens led the serving points with 12, including two aces.
"Kai was on fire," Stevens said. "She had an exceptional state finals. She came out and killed it. This is the best team I've ever had, and I've had some really good teams.""
"This was a great match, Rock Point did a very good job. We didn't give them a lot of free hits. We were working hard to get the ball back. We only had 41 total serving points. We just couldn't keep the serve."
The team also received several individual 1A Canyon Region awards. Echevveria was the regional player of the year, Rory Stevens was named offensive player of the year, and Brianna Baldosky received defensive regional player of the year.
First team honors went to Mortensen, Riley McNelly, and Lexi Sandoval. Kyleigh Amos was named to the second regional team.
Stevens also had high praise for the support the girls received from the community.
"It's been amazing," she said. "We had a police escort out of town, with members of the community along the street. The football team has been extremely supportive."
Stevens noted that many of the senior class team members have been playing together for seven or eight years. She thanked her two assistant coaches, Ben Orozco, and her daughter, Teri Stevens. Currently, the team has three generations of Stevens' as coaches or players.
She also mentioned former coaches Jennifer Carter, and Erika Acosta. Carter coached the girls for six years, and Acosta started the volleyball club, along with Stevens, several years ago.
"I'm excited for next year," Stevens said. "I think we'll be competitive."
SUBMIT FEEDBACK
Click Below to: