Ashfork's Pamela Vasquez brings home gold at Prescott half marathon
Originally Published: November 8, 2022 9:09 a.m.
ASHFORK, Ariz. — More than 200 runners competed in the Whiskey Row Half Marathon, but it was 14-year-old Pamela Vasquez of Ashfork High School who placed first in her age group, third inthe womens division and 11th overall.
The 44th annual marathon took place on Oct. 8 in Prescott, Arizona. Vasquez ran in the half marathon which was 13.1 miles, seven of which were uphill.
To prepare for the race, Vasquez went on a six mile run. With her fastest mile already being six minutes, it didn't take much prep for her to feel ready for the marathon.
Vasquez had previously competed in a Pat Tillman run and a Big Brothers and Big Sisters of Flagstaff run. At Ashfork High School, Vasquez has played volleyball, basketball, and has run crosscountry.
At the school, although there is currently no running program for the high school, physical education teacher Natalie Broehm has students run miles frequently.
"We run a mile every day in P.E.," Vasquez said.
Broehm is to be credited for inviting Ashfork students to participate in upcoming races and providing transportation to and from the events. A lover of running herself, Broehm participates in the races and marathons with the students.
"As I watch these kids run, I see some that are just naturally good runners," she said. "I started taking some of my kids to the (races). Now the ones that I know like to run or enjoy competing, I just tell them 'hey I'm doing this run, so if you want to sign up you can,' and that's how this all came about."
Broehm has been at Ashfork High School for 14 years and also coaches the middle school cross country team. At the end of every school year she hosts a field trip where willing students can hike 12 miles in the Grand Canyon.
After having Vasquez in her physical education class for three years, she decided to invite her to a race.
"I've watched her run a lot. She's very competitive and we don't have a program for her here. I try to bring her along with me to anything that I'm going to be running in so that she can compete," she said.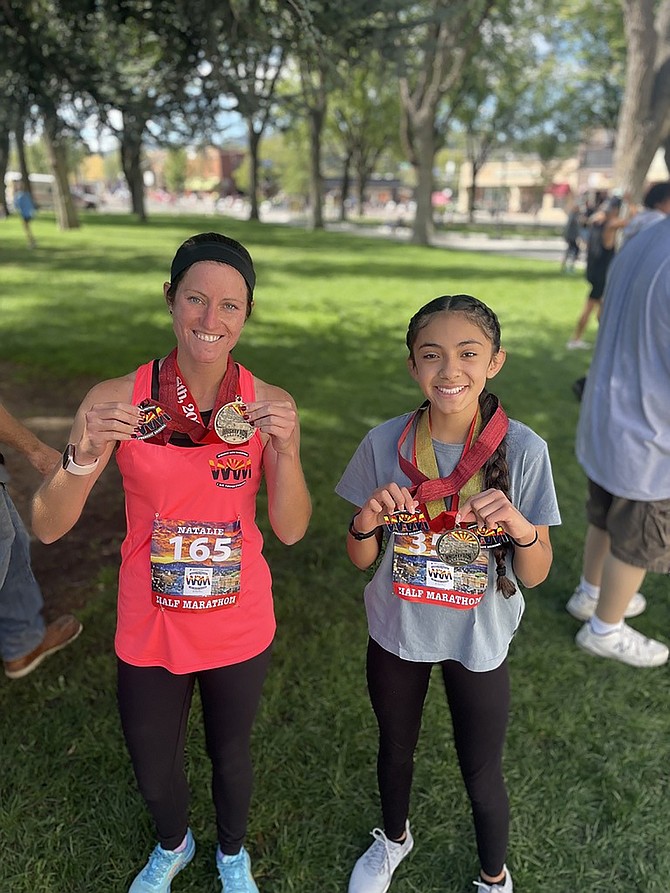 On race day, Vasquez brought her earbuds to listen to music during the marathon.
"I listen to my music and just zone off while I run," she said.
Averaging at just eight minutes a mile, Vasquez completed the half marathon in an impressive hour and 45 minutes. She tells us the hardest part of the marathon was the last seven miles, which was completely downhill.
"It was hard because my knees started hurting a lot," she said.
After she finished the race, she celebrated by eating oranges.
Vasquez was the only Ashfork student to sign up and participate in the Whiskey Row Half Marathon.
"It takes a little bit of extra dedication. She was the only one who was really interested. And it was a hard run," Broehm said.
With another race under her belt, Vasquez looks forward to continuing her running career.
"I plan to do a full marathon in the future, but want to get more experience before I do it. I'm going to train so I'm not as nervous," she said.
SUBMIT FEEDBACK
Click Below to: