Class dismissed: Natalie Mann retires after 22 years at Williams Unified School District
Originally Published: May 31, 2022 9:31 a.m.
The last day of class is always bittersweet for kindergarten teacher Natalie Mann, but this year is especially poignant as Mann heads into retirement.
A leader in the Williams education community, Mann has the ability to make children feel comfortable and parents feel confident with her teaching.
Over the years, Mann has touched and inspired the lives of countless children — thousands, as if we do the math.
The bright, organized room at Williams Elementary-Middle School has been Mann's second home for the past 22 years and a cheerful introduction to the school itself.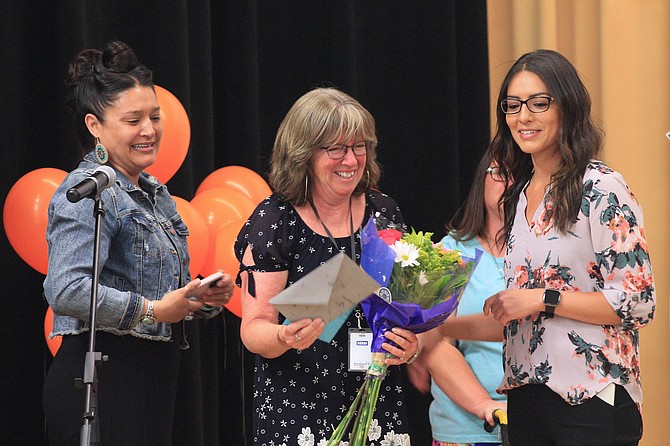 For many students, it's their first real school experience. They are just moving from the toddler stage, and kindergarten teachers need a variety of ways to solve these problems.
Mann said kindergarten has been a joy to teach, with the children excited to see her every day. She said the support of parents is also important.
"To have a parent, who I taught as a child, ask for me to teach their children is a real honor," Mann said.
Mann began teaching in Williams in 2000, the majority of the time as a kindergarten teacher. She began her teaching career in Wisconsin and then moved to Arizona to teach sixth grade in Tuba City. After six years she moved to Tempe and taught English as a Second Language for five years.
During her summer breaks, Mann worked at the Grand Canyon, where she met her husband, and they decided to relocate to Williams in 1990.
She worked as a substitute teacher for many years before having children and running a daycare.
Mann said she was glad to be able to stay home when her two children were young. She planned to stay home longer, but was offered a midyear sixth grade position when her youngest child was three.
She worked in the position for a semester before being offered a position as a kindergarten teacher, where she found her niche.
When she had several years of experience under her belt, Mann began mentoring other teachers and supporting the administration as the president of the Williams Education Association.
"My favorite thing has been the camaraderie between the teachers here at the elementary level," Mann said. "Having their support has been one of the highlights."
She found the importance of taking a lead in the direction of the school and being a voice of the staff. She said it has been difficult to see the frequent turnover of administrations and the new requirements on teachers.
"I feel it's important for people to know how challenging it is to teach with so many new mandates being handed down," Mann said.
Mann said she is disappointed in how legislators are making the decisions for how kindergartners should be taught.
She said kindergarten has become increasingly academic, often forgoing structured play-based learning that has long been determined to be the best way for young children to be educated.
She said students are now leaving kindergarten reading, writing, adding and subtracting.
"They continue to add to the curriculum," she said of legislators.
Despite the abundance of requirements, Mann said she doesn't believe it has made any difference as students progress through the grades.
"I don't see a correlation between those expectations and higher learning outcomes," she said.
Despite the frustration, Mann said there are many rewards in her position, especially watching the students grow. She has enjoyed watching them progress from a shy, insecure student to having confidence and a desire to learn.
"I feel it's my goal to make learning fun and encourage the students to keep learning," she said.
Mann said she will miss her coworkers and the students but looks forward to the future.
With her children now grown, She plans to spend her retirement traveling to visit friends and families while maintaining her home in Williams.
SUBMIT FEEDBACK
Click Below to: