Believing and achieving: Viking Bryton Cox works toward football future
Originally Published: May 24, 2022 12:04 p.m.
WILLIAMS, Ariz. — The 2020-2021 school year is coming to a close for most students at Williams High School, but things are just winding up for student-athlete Bryton Cox.
Cox, a junior, is well known in Viking territory, with his larger than life presence on the football field as an offensive and defensive lineman, and as a member of the 2019 state championship football team.
He is a multi-sport student with impressive agility on the Vikings basketball team as a power forward, and he displays impressive leadership skills on the school's golf team - all while maintaining a 3.49 GPA.
"To have that broad base of athletics just opens opportunities for Bryton in college," said Williams High School Athletic Director Phillip Echeverria.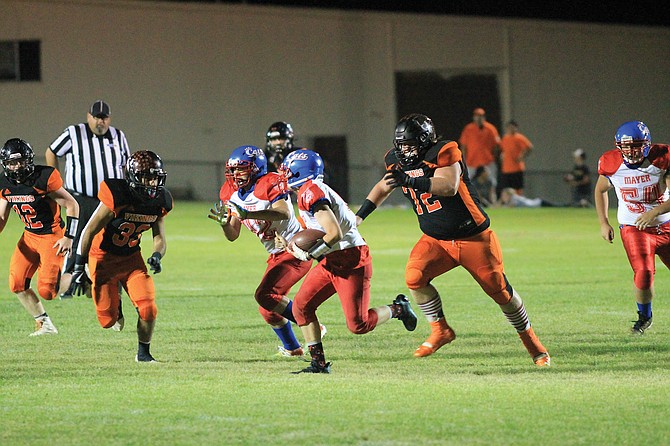 Cox's abilities on the football field stand out among all his athletic endeavors and have not gone unnoticed outside of Williams.
In April, Cox participated in the 2022 Blue-Grey Desert Regional Combine in Chandler, Arizona.
Blue-Grey Football hosts around 20 All-American combines, Regional and Super levels, across the nation to give student-athletes national exposure and an opportunity to learn from some of the NFL's best.
Cox received two stars for his results as a defensive lineman, which Echeverria said is outstanding, and has led Cox to future invites.
The goal of the combines is to provide invaluable instructions to student-athletes both on and off the field. Skills testing includes the 40-yard dash, broad jump, bench press and shuttle, as well as individual drills with the former pros. Extended one on one sessions aren't unusual, and special meet-and-greet sessions are available for the student-athletes and their families with the combine coaches and staff.
Those who do well during these workouts in front of the coaching staff comprised of NFL veterans, as well as a team of experienced scouts, are selected to participate in the exclusive and invite-only Blue-Grey All-American Bowl.
With Cox's results in the April combine, he has now been invited to Dallas, Texas to participate in the Blue-Grey Super Combine June 11. He returns to Dallas in July for another Super Combine.
"We're proud of Bryton for being part of our football program here in Williams," Echeverria said. "We are impressed by all the work he and his parents have put in to what he wants to accomplish – which is to play football in college."
Cox began his football career at the age of five, and has quickly made a name for himself as a lineman.
In 2020, Cox was selected to the 1A First Team All-Region by the Arizona Interscholastic Association. He was also named to the 1A Second Team All-State.
The AZ Sports Network named him All-Region and All-State Offensive Lineman, and he made the All Hercules team.
In 2021, Cox made the 1A All Region First Team and All State First Team for offensive and defensive lineman.
He also made the AZ Sports Network All-Region offensive and defensive lineman, and was named the Lineman of the Year.
Cox is a year-round athlete, who not only regularly conditions for football, but makes a difference on the Viking's basketball and golf teams. He routinely lifts weights and runs in his spare time.
"Every day I have my varsity sports class, and every day I'm in the weight room or on the field being productive and working toward getting better," he said.
Cox said Vikings Head Coach Jeff Brownlee trains linemen alongside the other skilled players.
"I run just as much as our running backs and receivers," he said. "That's what has me able to play a full game every time we step on the field. I can play 110 percent on both sides of the field until the end."
Despite the year-round schedule of athletics, Cox carves out time to keep ahead on his academics.
"Most of the time I stay pretty well on my classes," he said. "Sometimes it can be pretty stressful, especially during basketball season where we miss a lot of school. But we're able to come back and get a lot of work done. I work to keep my grades up."
Following a summer of football, Cox will return to play for the Vikings in his senior year. The Vikings made it to the semifinals of the state tournament in 2021, but lost to St. David. The team returns with an experienced roster this season.
---
SUBMIT FEEDBACK
Click Below to: