Emry Pensinger focuses on deep root growth and crew cohesion as new superintendent at Elephant Rocks Golf Course
Originally Published: May 17, 2022 11:10 a.m.
WILLIAMS, Ariz. — "It's a beautiful place to come to work every day. I keep telling my wife I can't believe I'm doing this," said Elephant Rocks Golf Course's newest superintendent, Emry Pensinger.

Pensinger started at Elephant Rocks March 28 and said he's learned a lot in the last month and a half.
"I heard about Marty (Yerian), the former superintendent and how great he was and you always want to live up to that. Marty was really good with what he did with this course and you want to keep that going," he said.
Prior to accepting the position at Elephant Rocks, Pensinger worked for the City of Flagstaff Parks and Rec Department.
"There's not as much political drama like we had in Flagstaff — I like that," he said. "I get to focus on making this place look good and playable."
Right now, Pensinger is working on taking care of the grounds and building camaraderie with his crew.
"I think we've got a great thing going on here," he said.

Pensinger, 40, was born and raised in Flagstaff. He played college baseball at Glendale Community College for several years before an injury caused him to return to Flagstaff where he took a job with BNSF Railway.
In 2008, Pensinger became a city of Flagstaff employee.
"I always had an interest in outdoor jobs," he said. "I'm a good laborer, I always liked working hard and working with my hands."
Even as a child, Pensinger said he was interested in gardening and making things grow.
"I grew up gardening with my parents and when my wife and I bought a house we were always planting trees and gardens," he said.
This interest directly correlated with his career choices. During his time with the city of Flagstaff, Pensinger became an arborist and was certified in tree risk assessment and he earned his turf sports certificate and pesticide applicator license.
"With the city of Flagstaff I became a professional," he said. "My boss at the time, Steve Zimmerman, was a great boss and was all about developing people. I started from the ground up and all of that (certifications and job experience) helped develop me as a person and employee."
By the time he left Flagstaff, Pensinger was the supervisor for the east side of the Flagstaff Parks Department.
"I really did love it and didn't intend to leave it, but this was a dream job," he said.
In his new role as superintendent, Pensinger said one of the most important aspects of this job for him are his employees — they come first.
"If my crew is no good, then I'm no good," he said. "It's always about your crew … once you give someone a little ownership of what they're doing they care about it a whole lot more."
The golf course currently has two full-time and three part time maintenance employees.
Learning the greens

Pensinger understands grass, in Flagstaff he took care of the largest baseball complexes in the city, but learning how to take care of a golf course is a new learning experience, he said.
"Turf was always my specialty, but it wasn't golf course turf. It's totally different taking care of fields," he said. "I didn't know anything about greens or pumps, but it is all the same concept."
Currently, Pensinger is focusing on deep root growth and is working on a more efficient watering schedule. He believes that the course was over watered in the past.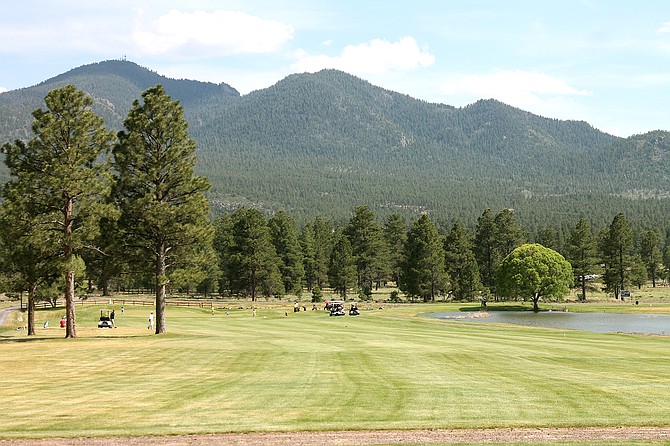 "There's some days we'll need a lot of water and some days we don't need hardly any water," he said. "We're trying to conserve water as well … adding wetting agents in the well so we can hopefully hold water. I think it makes a better, playable surface when we're not watering things so heavy where people can't play."
Pensinger said this time of year, you have to pay close attention to the grass.
"We're dealing with the winds and being dry. I tell my guys, 'we're always going to be chasing yellow,'" he said. "But, that's kind of the neat thing — everyday things are different, basically who we're competing against is nature."
In the future, Pensinger said he would love to have Elephant Rocks make top rankings again at the state and national level. In 2019, Elephant Rocks was ranked No. 37 for best golfer's choice in the U.S., No. 3 for top courses in Arizona and No. 14 for top value in the U.S.
"I'd love to get it there again and I don't see why we can't," he said. "The upkeep of the course is the major thing."
Outside of work, Pensinger enjoys spending time with his wife and two boys. He also enjoys fishing, hunting, cutting wood, gardening, sports and being active.
More information about Elephant Rocks Golf Course is available at www.elephant-rocks.com.
SUBMIT FEEDBACK
Click Below to: