Is pozzolan mining coming to Bill Williams Mountain?
Williams City Council opposes proposed mining operation on namesake mountain
Originally Published: June 14, 2022 3:11 p.m.
WILLIAMS, Ariz. — Residents who live on the eastern edge of Bill Williams Mountain have plenty of questions and concerns as a slew of mining claims have recently gone up in the area.
Drake Cement LLC, who recently was approved for a pozzolan mining operation northeast of Williams near Frenchy Pit, has now begun an exploratory process to find more pozzolan in the Williams area for its cement plant near Paulden, Arizona.
Pozzolan combines with calcium hydroxide to make high quality concrete and is found in deposits of volcanic tuff, a glassy, igneous rock formed when deposits of volcanic ash compress under pressure over time.
In March, residents along Perkinsville Road began to see markers going up in forested areas bordering the rural neighborhoods.
Upon further investigation, the markers were found to be mining claims covering approximately 850 acres on the east side of Bill Williams Mountain.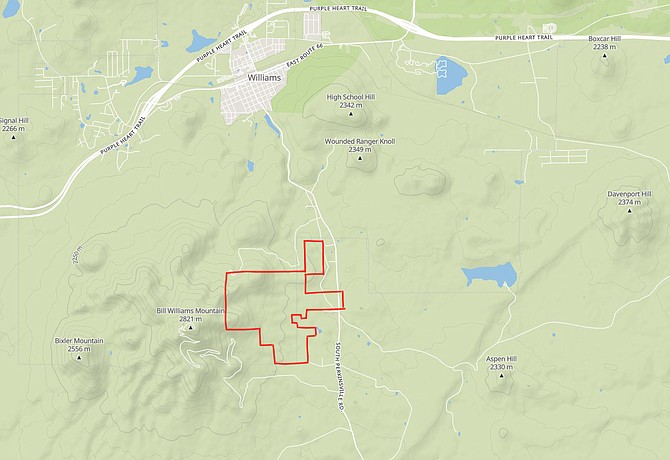 Steve Dudley, a homeowner that backs U.S. Forest Service land where the claims have been staked, is concerned about the impacts to not only his neighborhood, but to the entire community of Williams.
"This is going to generate a huge visible scar on the east face of the mountain," Dudley said. "The mine borders private property its entire length. These properties will be heavily impacted, as will the city of Williams, the Havasupai Tribe and its watersheds."
The Drake footprint is roughly two miles long by one mile wide. It begins on Kaibab National Forest lands just south of the Elk Ridge Ski area and proceeds the south parallel to the Perkinsville Road for 2 miles.
Dudley has contacted Bureau of Land Management and USFS officials, and brought his research to the Williams City Council meeting June 8.
"The Mining Law of 1872 is very durable," Dudley said. "Basically there's not much you can do to circumvent or defeat it once it's set in motion."
The General Mining Law of 1872 states that all valuable mineral deposits in Public Domain lands of the United States are free and open to exploration and development.
The Forest Service Mining Regulations set forth rules and procedures for use of the surface of National Forest System lands in connection with mineral operations. The USFS role is to review and approve the operating plan for this activity and apply any needed mitigation and reclamation requirements.
"We would like to try to convince them that there are more economically viable sites elsewhere, less contentious sites they can work with as opposed to making a scar on the east side of Bill Williams Mountain," Dudley said.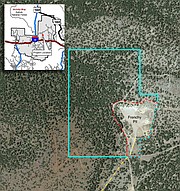 Frenchy Pit
In December 2021, the Forest Service completed a National Environmental Policy Act (NEPA) review of Drake Cement's proposal and approved an operations plan to mine pozzolan near Frenchy Pit.
Drake has already begun site preparations at the site, and anticipates mining activity to start in late summer or early fall 2022.
Once in full operation, Drake said they plan to remove 300,000 to 500,000 tons of material annually over the course of 20 years within the 65-acre project area. Temporary plant facilities will be installed on site, and the company plans to use excavators and bulldozers on the open open-pit mine.
Kirkland Mine
Other companies are also seeking areas to mine pozzolan, which include the approval of an operation in Skull Valley, Arizona in 2018.
After more than a year of studies and loud public opposition, the federal government gave the green light to Kirkland Mining Co. for a pozzolan mine on public land southwest of Prescott.
More than 1,000 public comments were filed opposing the mine, ranging from concerns about traffic, noise and dust, the destruction of cultural sites, threats to the yellow-billed cuckoo and the possible presence of an asbestos-like carcinogen known as erionite, which is found near the mine site, according to an article by Cronkite News.
Williams City Council
The approval of the Kirkland Mine, despite significant opposition, has raised the alarm for Williams city councilmembers.
"I don't think there's anything we can do now other than step out and get on it to prevent it from proceeding," said Williams Mayor John Moore. "We need to get in touch with Drake Cement and let them know how we feel and that we will do everything in our power to prevent it."
Despite the changes to the view shed and impacts on residences bordering the mining claims, the council discussed other concerns about an open-pit mine in that area of Bill Williams Mountain. This includes impacts on city water, potential erosion, airborne particles and recent forest thinning.
"We really need to be concerned about our water shed," said Williams City Councilmember Bernie Hiemenz. "I also think Coconino County will be concerned about the millions of dollars they have just spent on forest restoration."
For the Bill Williams Restoration Project, the National Forest Foundation worked to bring together funds from multiple contributors that include $1.8 million from the Kaibab National Forest, $800,000 from Coconino County, private funds from the Sperling Foundation and a state grant from the Arizona Department of Water Resources.
Drake Cement
Although Drake Cement has been actively placing mining claim stakes on Bill Williams Mountain since March, the company said they have no immediate plans to begin mining on the mountain.
"All we are doing right now — we're just doing a lot of exploration work around the state — trying to find other sources of minerals that we can use at our cement plant in Paulden," said Drake Cement spokesman David Chavez.
Chavez said despite the recent staking of claims, the decision to mine on Bill Williams is several years away.
"When I say years, I mean two to three years before the decision is ever made to mine up there," he said.
Although the company has recently been approved to mine at Frenchy Pit, north of Williams, Chavez said the company continues to look for more sources of pozzolan.
"All we are doing is looking for the minerals we use in the production of cement, we're just trying to locate them for the future," he said. "We are looking at everywhere within a two-hour drive of our plant in Paulden."
US Forest Service
The U.S. Forest Service said they haven't received a request from Drake Cement to mine pozzolan in the Bill Williams Mountain area yet.
"Drake has not proposed any mining activity near Bill Williams, nor have they indicated to us any intention to do so," said Kaibab National Forest Public Affairs Officer Brienne Pettit.
Open communication
Williams City Council and Drake Cement both expressed the desire to open communications regarding the recent mining claims on Bill Williams.
"We are happy to entertain that," Chavez said. "Drake is a very socially responsible company and one thing we don't want is bad press. We want to be known as a company who is a good neighbor, who pays people good money, pays good benefits and does all the right things."
Related Stories
---
SUBMIT FEEDBACK
Click Below to: