A voice in the wilderness: Arizona Wildlife Federation using podcasting for conservation
Originally Published: June 7, 2022 10:25 a.m.
WILLIAMS, Ariz. — Unlike many government agencies and advocacy groups whose social media posts are strictly factual and straight to the point with little personality, Michael Cravens is bringing much needed attention to wildlife and public lands access issues in Arizona through his creative and insightful podcasting.
As the advocacy director for the non-profit Arizona Wildlife Federation, one of Cravens' goals is to educate and encourage the public to understand the value in protecting and enhancing wildlife and wildlife habitat in the state.
However, he found that it's been a challenge to find the right method to reach younger generations and has now found a niche with his Arizona Wildlife Federation podcast.
"It was frustrating to me when I first started that a lot of people didn't know who we were," he said. "The Arizona Wildlife Federation is one of the most impactful groups in Arizona."
Cravens, who lives in northern Arizona, said he took it upon himself to figure out a way to reach a younger demographic, and realized it needed to be through social media and potentially podcasting.
Every other week, Cravens now interviews a wildlife or public lands specialist to bring interesting and informative conversations to the airwaves.
This week, Cravens interviewed retired Arizona Game and Fish Department biologist Randy Babb. Babb recently compiled a report about jaguars in Arizona.
"This podcast to me was just fascinating, its one I've wanted to do since starting this," Cravens said. "He has basically collected reports and put them in one place to paint a picture of jaguar distribution and natural history in Arizona."
Cravens said he has a list of topics and experts he plans to interview, which include experts on wildlife management and also experts on sporting.
"I'm a hunter and angler so a lot of it leans in that direction, but I try to mix it up," Cravens said. "I did one on Becoming an Outdoors Woman and I did one on field herping — looking for reptiles and amphibians."
Although Cravens' podcast is new, the Arizona Wildlife Federation is one of the oldest wildlife advocacy groups in Arizona and will celebrate its 100th anniversary in 2023.
Their mission is to advocate for science-based wildlife management and access to the state's public lands. They also provide opportunities for Arizonans to learn outdoor skills through conservation projects.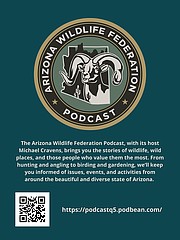 "Our roots are in the sport of hunting and angling, but that doesn't mean we don't pay attention to nongame species, public lands access and all wildlife habitat," Cravens said.
Cravens is a regular at the Arizona State Capitol, where he tracks public lands bills, testifies in committees and meets with legislators.
"I'd prefer being in the woods, but that's where decisions are made," he said. "Every legislative session has bad public lands bills that come up that try to privatize public lands, or try to limit access to those lands — and we are there fighting those."
Through science-backed information, the Arizona Wildlife Federation's mission is to protect access to public lands and promote the conservation of wildlife habitats. That requires bold ideas and actions at the state level, according to Cravens.
"We were formed in the beginning to take wildlife management out of the legislature, which was a bad deal — back then it was a lot of good ol' boys with backdoor deals and things — and we formed the first science-based commission to manage wildlife," he said.
Cravens said over the past 100 years, Arizona has become a testament for what a successful model of wildlife management can be.
"We have more bears on the landscape, we have more elk," he said. "In Arizona we completely extirpated elk through market hunting and we brought them back from basically extinction. As far as hunting and angling goes, we are literally living in the good ol' days."
To keep hunting, angling and public lands access open requires continual monitoring and advocacy, Cravens said, and this is where the organization remains focused.
"Our primary work is boots on the ground volunteerism, and we organize volunteers for others," he said. "We have our affiliate groups — the Arizona Elk Society, the Rocky Mountain Elk Foundation, Quail Forever — we organize a lot of volunteers for their projects."
One of the most popular programs the Arizona Wildlife Federation is behind is the Becoming an Outdoors-Woman, which offers hands-on workshops to women and provides a supportive environment for learning skills such as gun safety, shooting, angling, camping and more.
"This is an extremely popular program," Cravens said. "We just recently expanded it to attract younger women and minorities."
The group is also vocal in protecting habitat around the Grand Canyon, and has been vocal in its opposition to uranium mining near the Grand Canyon.
"Toxic uranium mining near the Grand Canyon must not happen given the known risks to our natural resources, the economy of northern Arizona, and the communities that depend on Colorado River water," the Arizona Wildlife Federation has stated.
Cravens said a big part of the organization's mission is working with businesses to recognize the link between conservation policies and economic opportunities, which the group maintains through their Get Outdoors Arizona (GO AZ) group business coalition.
"That's a big part of what we work on," he said. "It is basically a coalition of businesses anywhere from a bicycle shop to a brewery that depend on public lands, access to them, clean water, clean air and healthy habitats for their businesses."
Every year the Federation organizes Camo at the Capitol, which brings sporting organizations together in Phoenix where they set up tables and talk to legislators about current issues. They also tempt them with wild game recipes.
"We serve up a lot of dishes for legislators and passersby," Cravens said. "I take wild game cooking very seriously, it's something I love very much."
And these dishes are not only pallet pleasers — the groups have an underlying mission, which is to show the public that wildlife such as bear and mountain lion are more than trophy animals — they are also very tasty.
"So you can throw that language out," he said. "It gives us a little leverage."
Cravens' podcast can be found by searching Arizona Wildlife Federation podcast on any podcast app, or visiting https://azwildlife.org/Podcast.
SUBMIT FEEDBACK
Click Below to: