WEMS announces January Students of the Month
Originally Published: January 18, 2022 11:14 a.m.
WILLIAMS, Ariz. —Williams Elementary-Middle School (WEMS) recently announced the January Students of the Month (SOM).
The pre-k SOM is MariAnna Perkins. MariAnna is such a joy to have in class. She loves school, and always comes in with a huge smile on her face. MariAnna loves to learn new things, and has shown a lot of growth since the beginning of the year. She makes friends easily, and is a great friend to everyone in class.
The kindergarten SOM is Izabel Duarte. Izabel is a wonderful addition to our class. She is always in a good mood with a smile to share. She tries her best on her work and always does her homework. She is kind to others in the class and respectful to all adults. She never gets her name on the board and has learned so much this year. She is a great example of a falcon who flies and is artistic as well.
The first grade SOM is Madalynn Pruett. Madi is a joy to have in class. She comes to school every day with a smile on her face. She works hard in class has made a lot of progress this year. Madi is a wonderful friend to others. She loves to cheer others on when there is a hard task, compliments their successes, and offers comfort when a peer is upset. Madi loves to help and will jump in whenever needed. Madi is a student that SOARs every day and I am so happy to have her in my class. I'm so proud of you Madi.
The second grade SOM is Harrison Endicott. Harrison is a wonderful student who soars every day. He is always on task, does his work independently, and will offer to help his peers. Harrison enjoys school and wants to learn as much as he can. He follows the rules, raises his hand when appropriate, and truly enjoys advanced math. I am overjoyed to have such an amazing student in my class.
The third grade SOM is Daniel Avila. Daniel came to us this year. He a multi-talented young man. He is a mathematician and quite an artist. It is a joy to watch these skills grow in the many activities done in the classroom, as well as, during his free time. He is a very caring and helps his classmates when asked. He also loves to give hugs. I look forward to seeing his skills grow over the years. I am so glad to have him in my class.
The fourth grade SOM is Noelani Kuhns. Noelani has a very special spark and she lights up the room with her positive attitude, her sweet personality, and her kind words. She is new to our school community, but has easily fit right in. She strives to do her best and is a great role model and friend to her classmates. Without a doubt, Noelani deserves this award! Her teachers are so proud of her hard work and extremely happy she was placed in this classroom.
The fifth grade SOM is Kacey MacGregor. Kacey is a good friend to all of his peers and makes sure that others feel included. He has put forth more effort academically and his grades have improved because of his hard work. If he keeps working diligently on his school work this semester, like he did last semester, his grades will only improve.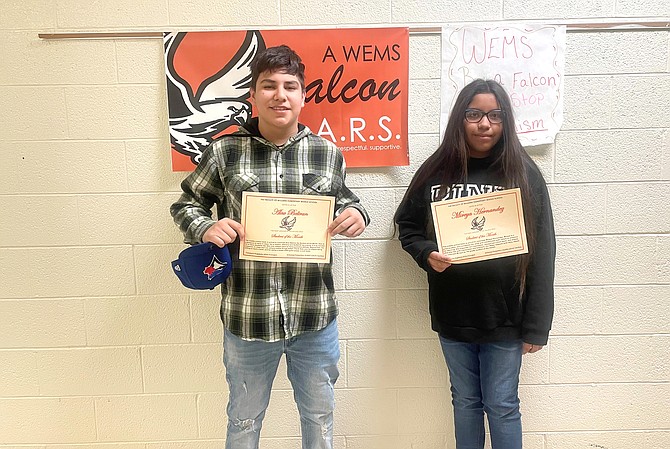 Middle School
The middle school SOM is Alex Beltran. Alex is a pleasure to have in class. He is helpful, attentive and always has a smile. It is so wonderful to have students like Alex that always seem to have a positive attitude. Beyond that, his presence, in class and out, simply makes things better. Thank you, Alex, for always being willing to lend a hand, and for being a leader and quite simply, a cool dude.
The middle school SOM is Mireya. Mireya is a great student, she completes her work and collaborates with others to enhance her learning. She supports her classmates, always has a kind word, and shares what she has with classmates and teachers.
SUBMIT FEEDBACK
Click Below to: