Grand Canyon Church community welcomes pastor Michael Paddy
V. Ronnie Tierney, Williams-Grand Canyon News
Originally Published: December 20, 2022 9:17 a.m.
GRAND CANYON, Ariz. — If enthusiasm, faith, hope and love could be bottled up in one person, the new resident pastor of the Grand Canyon Community Church (GCCC), Michael Paddy, might very well fit the bill.
Relocating to the Grand Canyon in August this year, Paddy and his wife Michelle have been proactive in getting to know the parishioners of the church and the community.
"I really want to get to know the 'landlords' here, so we can work together, so I've been meeting with a lot of people here at the South Rim Village," said Paddy. From the Grand Canyon National Park Service to the Tusayan Fire Department, Victim Witness and the concessionaires, Paddy is actively out and about.
With training in grief, trauma, crisis intervention and post-traumatic stress syndrome, Paddy is a certified chaplain and obtained a degree in Master of Arts in chaplaincy counseling. "I take on-going courses and continuing education units to stay certified."
"Other than a community assistance fund request, we haven't yet utilized Michael as our chaplain," said Tusayan Fire Department Business Administrator Kate Johnson. "However, Tusayan Fire is honored to have him as a spiritual resource for people during their greatest time of need."
The Grand Canyon Community Church community assistance fund helps anyone in need of emergency financial assistance helping them with transportation and/or lodging.
Paddy heard about the position at the church through his daughter who was planning a trip to the Grand Canyon.

"She happened to see the opening position for a pastor here and told me that I might be a good fit and I should send in my resume," he said. "I told her there were probably hundreds of guys applying and I probably wouldn't have a chance. When I looked at the education and experience they were looking for I decided to apply."
At the time Paddy was on sabbatical, working at Ruby Falls in Chattanooga, Tennessee. "The GCCC committee asked me to prepare a ten minute message during an online interview. About a week later they asked Michelle and I to fly out. Michelle fell in love and so did I."
"Collectively we felt that his life mission statement aligned with the church's vision and needs," said GCCC Chairman of the Board, Eduyn Graterol. "Personally I believe he has the energy and the drive to make a difference in our community as a counselor and faith leader. He is well educated and brings a lot of experience. I especially liked the fact that he was immersed in a multicultural background as he spent years abroad living in a different culture learning a new language and all else that comes with that experience."
Now serving as the GCCC's 46th pastor, Paddy grew up in Buffalo, New York. His wife Michelle is British and was born in Johannesburg, South Africa. Her family immigrated to Canada when she was 14 years old.
"When we first met, for me it was love at first sight. For her it took a few months. We started dating when she was 18 and I was 22. We got married in 1979," said Paddy.
The couple recently celebrated their 43rd wedding anniversary and have two grown daughters and two grown sons with 11 grandchildren.

Both have undergraduate degrees in Intercultural Ministries and served as missionaries in the Philippines for ten years. "We were church planters and social economic development. We worked with the Agta people who are native to the Philippines, ensuring they received proper medical care.
After five years we moved to Dinalupihan, Bataan, at a missionary training center teaching Filipino missionaries in areas of Bible Anthropology, culture and linguistics, "said Paddy
Top of Paddy's list is getting to know the people at GCCC church and others in the South Rim Grand Canyon Community. "My goal is to Sheppard the church and to meet their needs."
"I love the 12 minute walk from our house to the rim of the beautiful Grand Canyon," said Michelle, who recently began working at the Grand Canyon School as an Instructional Aide.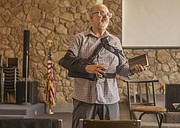 Recently while setting out on a visit to take a package to a family that was ill, Paddy fell and tore his rotator cuff. "My foot got stuck under a ramp in our garage." Not realizing the extent of his injury he drove to Chattanooga to pick up Michelle. "When they did surgery, the doctors were surprised at the severity of the injury to my shoulder."
Bearing a sling has not held Paddy back, he continues strong with his Sunday sermons and all else on his agenda.
Claiming that he's just another guy, Paddy says that he's just a vessel. "I'm a human and God called me to do something special and by the grace of God I can do it. I can't believe I get to pastor a church at the Grand Canyon, my goal is to please the Lord in all I do."
The Grand Canyon Community Church will be sponsoring their annual Candlelight Christmas Eve Service on Saturday, December 24th at 7:00 p.m. at Shrine of the Ages. A special offering will be taken with proceeds going to the Community Assistance Fund.
The GCCC meets at Shrine of the Ages on Sundays at 11:00 a.m. A time of food and fellowship is held at the parsonage on Thursday's evenings at 6:00 p.m. The church can be reached at (928) 638-2340.
---
SUBMIT FEEDBACK
Click Below to: