Large-scale development in the works for community of Tusayan
Originally Published: August 30, 2022 10:17 a.m.
TUSAYAN, Ariz. — Dining options, spas, retail, entertainment and cultural opportunities are being proposed as part of a large-scale development in Tusayan.
On Aug. 16, EKN Development of Newport Beach, California, presented preliminary site plans for the development during a public meeting at the IMAX Theater, during which they shared information about the project. Approximately 25 people attended and had an opportunity to ask questions regarding the preliminary development plan.
"We are a very open book developer, we want to understand the issues and we tell everyone we are very open with what we can do and are very transparent with what we can't do," said Ebbie K. Nakhjavani, president and CEO of EKN Development. "The success of the project doesn't end when we open, that's just the beginning."
Development proposal
EKN is proposing a two-phase development project, called ALDEA, on the 20-acre Camper Village parcel, located at the northeast side of Tusayan. Upon completion, the 740,000 square foot development will include 450 hotel rooms, 100 workforce housing units, 200,000 square-feet of commercial and mixed-use space and 4.4 acres of open space.
EKN Development is currently designing the first phase of the development, which they will submit for review by the end of the year and have begun planning the second phase.
According to EKN, phase one will occupy the northern 10 acres of the site and will include the 450 hotel rooms, 50,000 square feet of restaurant and retail space, a 15,000 square-foot cultural center and workforce housing units.
EKN estimates construction for phase one will begin in late 2024 and could take between 18 to 24 months to complete.
Development background
EKN became aware of the potential for development in Tusayan from a series of connections within their professional community.

"We knew of Stilo and their partners and this project," Nakhjavani said. "We were very interested in working on this. It took us awhile to negotiate the deal."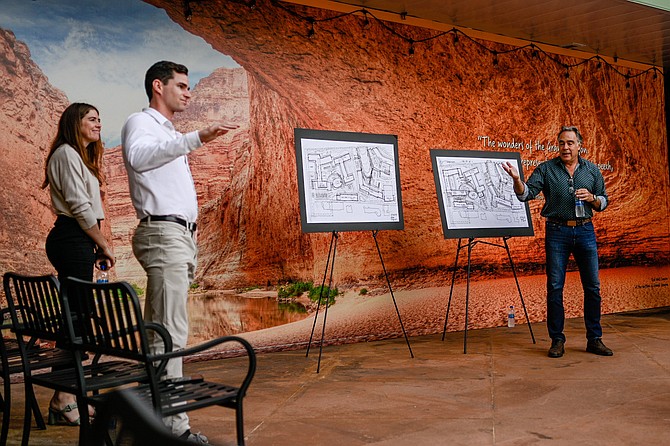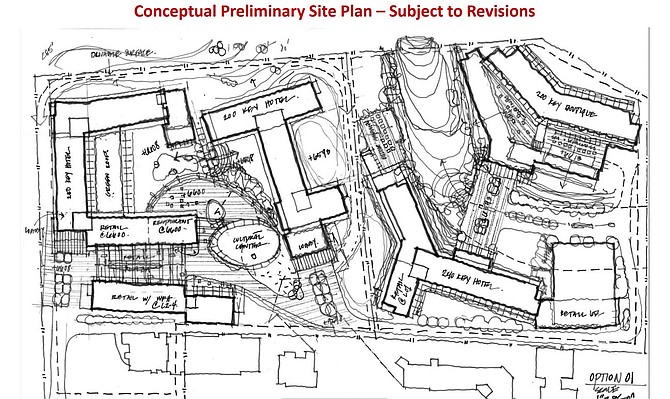 The Camper Village parcel was co-owned by Stilo Development Group USA and the Halvorson family.
In 2011, the Tusayan town council approved a development and rezoning proposal submitted by Stilo for Camper Village.
According to Nakhjavani, EKN purchased the Halvorson family's share of the property, while Stilo remains a partner.
"Their (Stilo's) involvement in the project is that they contribute the value of their half of the land," Nakhjavani said.
Over the next several months EKN will be working on taking over as the lead developer in the project, Nakhjavani said.
"To basically figure out how we are going to implement this project," he said. "If you look at our background and all we've done, we come in and perform only because we can't afford to just get involved in projects and have them dry up for years. From the time we get involved we are very focused on start of construction and opening date."
Community concerns
Concerns raised by community members during the Aug. 16 meeting included floodplain areas, waste treatment limitations and water usage.
According to Nakhjavani, these issues will have minimal impact on phase 1 as current zoning for the property provides sufficient water and waste treatment for phase 1.
"There's a problematic approach to all the wet and dry utilities for both phases of the project that we will be presenting and they will have been discussed in detail and quantified with all of the various jurisdictional agencies," he said.

"We will be working with hydro to address those infrastructure improvement requirements and addressing the water needs for the project, including recycled water and also implementing significantly more water saving devices and technologies that didn't even exist when this project was approved," he added.
Nakhjavani stated that he believes some of the bigger concerns for the project are workforce housing and schools.
"More permanent type of housing for more permanent careers (is) who I'm hoping to attract," he said. "We'll have to house them and we expect and hope that they become part of the community and they establish residency in Tusayan or nearby areas."
Next steps
EKN plans to hold additional community meetings with updates to their plans. Their projected date for their next meeting is Sept. 20.
They will also present development plans to the Tusayan Town Council within the next several months.
"We want all members of the community involved and we'll have a lot more discussions – I don't have all the answers yet, but I think it will be a positive direction, a positive trend," Nakhjavani said.
About EKN Development
EKN Development is a real estate development firm specializing in hospitality and hospitality-anchored mixed use, and high-density residential developments with approximately $15 billion in development experience.
More information about the ALDEA and EKN Development is available at www.ekndevelopment.com/project/aldea-a-grand-canyon-resort.
---
SUBMIT FEEDBACK
Click Below to: