Doing the dirty work: Volunteer group cleans up forest near Ash Fork
Originally Published: November 30, 2021 10:26 a.m.
WILLIAMS, Ariz. — Thousands of people flock to northern Arizona each year to immerse themselves in the pinyon-juniper and ponderosa pine forests, whether it's to camp, hike, fish, hunt or ride off-highway vehicles.
Nothing ruins the adventure more than coming across a forest floor littered with old tires, household garbage, camping trash, construction waste or graffiti, which unfortunately is becoming all too common on Kaibab National Forest.
But thanks to Natural Restorations, a non-profit graffiti and garbage removal organization, several areas of the forest near Ash Fork have been cleaned up after two dedicated rehabilitation projects this year.
Photo Gallery
Ash Fork forest clean up 2021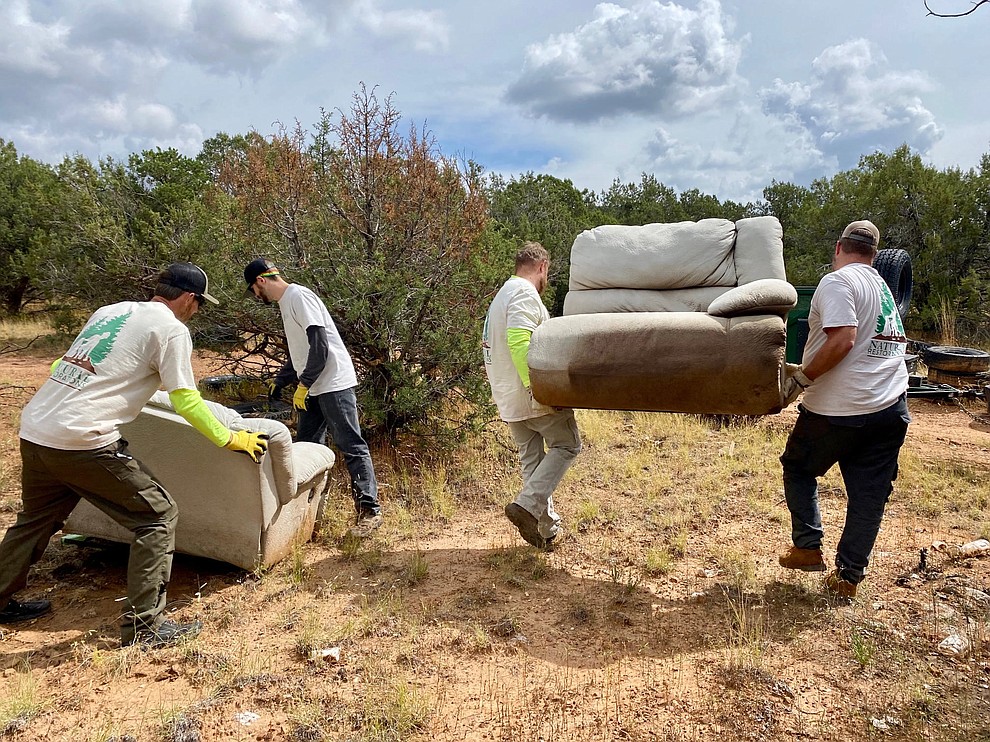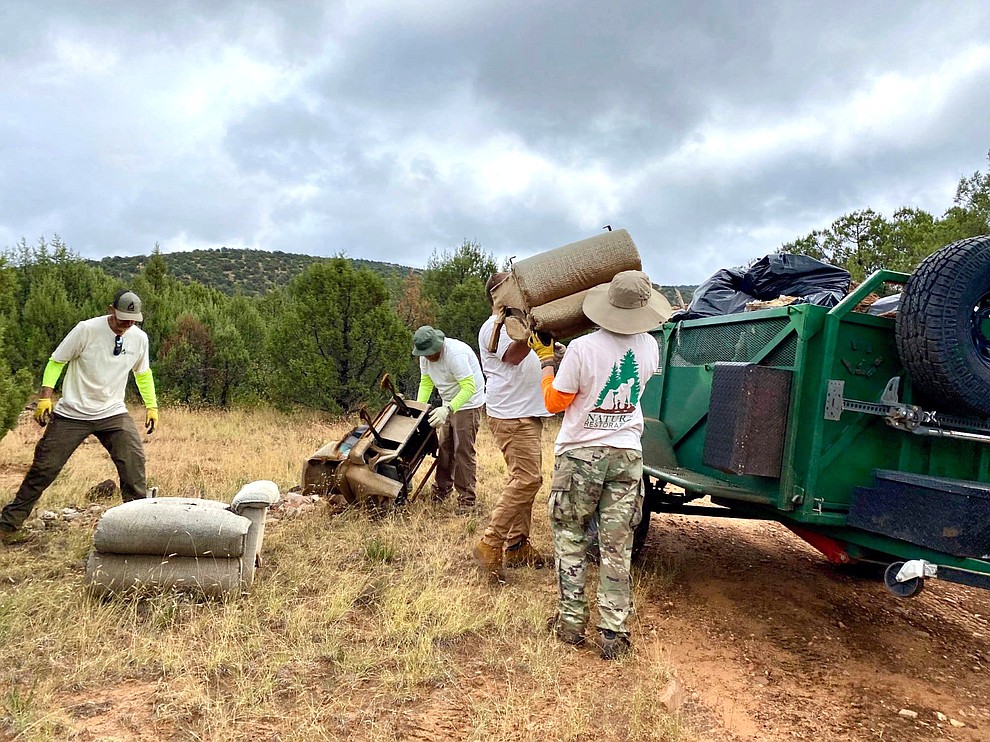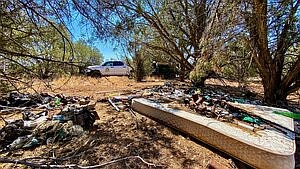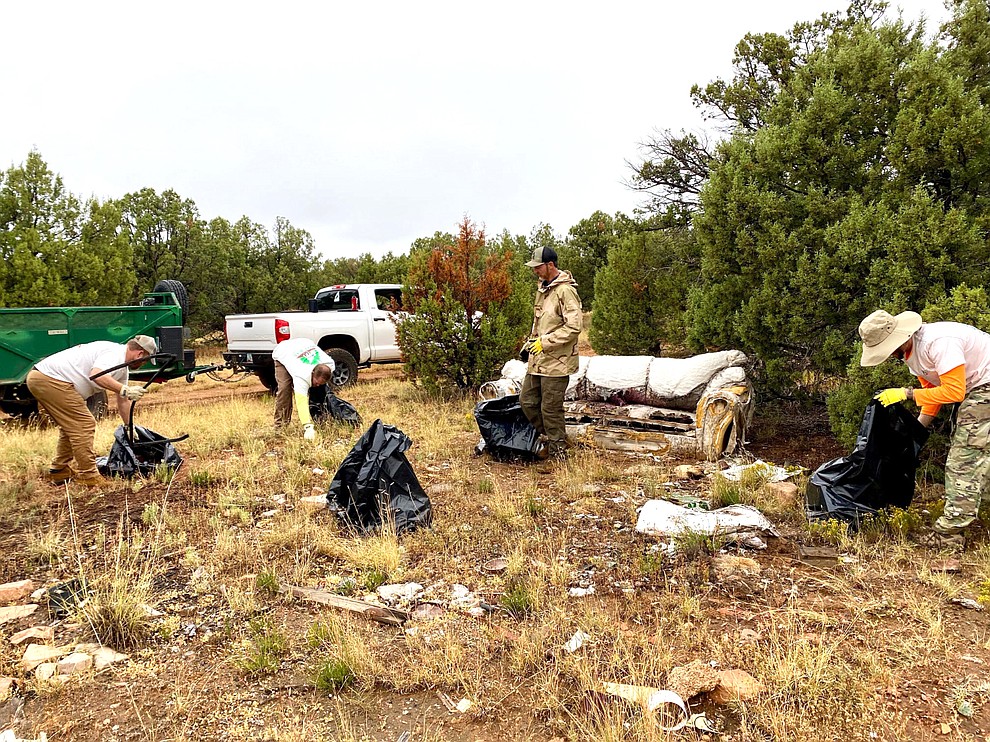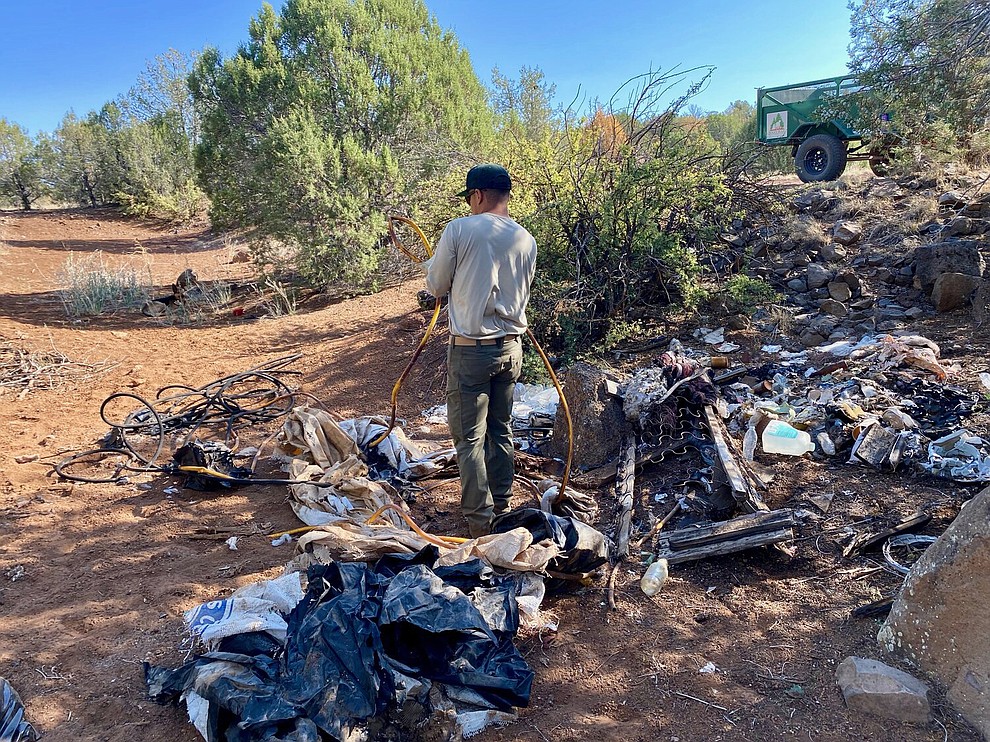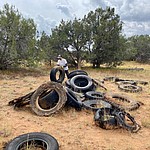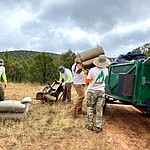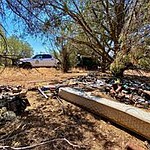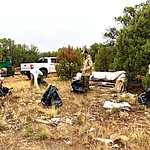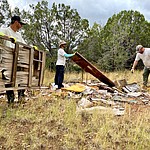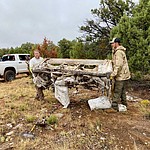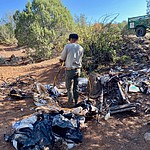 The restoration and veterans outreach program removed 21,360 pounds of trash and recycled 79 tires from the Hell's Canyon area, and trails around Double A Ranch Road and FR 124 in June and September.
"We worked with Kaibab National Forest on the project and removed 266 square feet of graffiti from the Hell's Canyon spillway," said Nicole Corey, executive director and co-founder of Natural Restorations. "It was painted all over the boulders going down the road and along the train tracks."
After a life-time of observing garbage and graffiti strewn across Arizona, Nicole and her husband, Justin Corey, of Gilbert, decided to do something about it and in 2015 formed Natural Restorations.
Their mission is to remove trash and graffiti from outdoor recreation and wilderness areas, revitalize natural areas through replanting projects, and enrich the lives of military veterans and other community members through the process.
They accomplish their mission by hosting volunteer cleanup events throughout the year for community members, including youth volunteers, and manage and support a dedicated restoration team with contracted military veterans who conduct restorations beyond the reach of most volunteers.
To date, the organization has removed more than 1 million pounds, or 598 tons, of trash from outdoor recreation and wilderness areas across Arizona. They have also removed more than 40,199 square feet of graffiti from rocks and boulders and removed and recycled 637 tires dumped in natural areas.
Their work has all provided 9,851 hours of contract work for veterans.
The recent Ash Fork projects were funded through a grant from the Arizona State Parks Off-Highway Vehicle Fund.
In addition to the Corey's desire to restore the natural habits of areas around Arizona, the projects are a way to provide an outreach to military veterans.
"We know a lot of vets go from the serving side by side with their brothers and sisters and then in 48 hours they are sitting at their doorstep without that community," Nicole said.
The Corey's are avid outdoor recreationists and grew up with a "leave no trace" ethic in their families.
"We were always taught to just pick up trash if a wrapper falls out of your pocket," Nicole said. "If you go camping and you fill up your trash bag, you take it out. If you get to camp and there is trash there, you pick it up. That just came natural to us."
While exploring the southwest, the Corey's developed a desire to do something about the trash and graffiti they encountered.
"We started going to the annual Four Peaks Cleanup (Copperstate Fourwheelers) and it really inspired us," Nicole said. "We took that idea and decided to do something more to cover the entire state and spend more time working at it."
After a friend returned injured from military tours in the Middle East, the Corey's realized they could create an organization that not only cleaned up the environment, but provided an outreach and employment for veterans
"My husband's friend, Derek, came back from serving the U.S. Army with a traumatic brain injury and PTSD, and struggled to reintegrate with society," Nicole said. "(He and Justin) went camping one weekend and Justin told Derek he wanted to start a trash removal company, which Derek thought was funny."
However, during the trip, Derek and Justin spent time cleaning up trash that was blown around during a storm and Derek told Justin he realized how calming it was to pick up trash instead of thinking about all the things that happened in the war. He felt he was making a positive impact.
After that weekend, the Corey's had a mission and went to work establishing Natural Restorations.
Unfortunately Derek passed away prior to its inception, but the Corey's dedicate the organization in his memory.
"That weighs heavy on our hearts, that he wasn't able to come out and work with Natural Restorations," Nicole said.
There are many programs in place for veterans, but the organization has found that is has been very effective for veterans to come out and work side by side with other veterans from the various arms of the military, she said.
"Veterans from the Marine Corps, Army, Navy and Air Force form a community that includes their wives and kids," Nicole said.
Natural Restorations utilizes volunteers and receives funding through organizations such as REI, the Salt River Project, Arizona Federal Credit Union and more. They also receive support from local organizations that donate supplies and services such as Fry's and Costco.
Southern Tire Mart of Flagstaff helped with the recycling of the tires removed from the Ash Fork areas.
The organization travels throughout Arizona working with the US Forest Service, Bureau of Land Management, AZ State Trust Lands and other entities.
"We rely on the community to let us know where we are needed," Nicole said.
Natural Restorations continues to seek volunteers for the numerous clean-up projects. They also ask community members to notify the group about littered and graffitied areas the organization can add to their list of projects.
For more information about volunteering and to submit ideas for site clean up, visit naturalrestorations.org.
SUBMIT FEEDBACK
Click Below to: