From New York City to the Grand Canyon, wrangler lives her dream
Originally Published: November 16, 2021 12:12 p.m.
Three mule rides to Phantom Ranch is what it took to convince Lisa "Tex" Parker that at some point she would have to come back to the Grand Canyon to work.
She vowed that she would make that happen…and she did, having now worked three seasons as a wrangler for Xanterra Travel Collections South Rim Mule Operations.
"My boyfriend Jack Rinaldi and I first visited the Grand Canyon in 2011," Parker said. "We then came back in 2013 and signed up for a mule ride to Phantom Ranch. We had Assistant Livery Manager Don Bristow as our lead wrangler at the time — he cracked jokes the entire ride and we had the best time of our lives. We fell in love with the inner canyon."
The couple's next visits were in 2014 and 2015 where they once again signed up for Grand Canyon Mule Ride to Phantom Ranch.
"We planned to ride down again in 2016 but the trail was closed due to a rock slide, so we settled for the two-hour Canyon Vista Ride instead," Parker said.
A few years later, Parker contacted the mule barn to see about employment. At the time she was living in New York City working for Belgian designer Diane von Furstenberg.
"I got the impression that they didn't think someone from New York City would make the cut as a wrangler," she said. "I had to be persistent because I had been brushing up on my riding skills on the beach in Brooklyn and also gaining experience as a guide."
"When she was applying for the job she said she was from Queens so I kept asking her if she was sure she knew how to ride," said Xanterra Livery Manager John Berry.
In March of 2019 Parker was hired as a wrangler.
"I worked through to November then we headed back to New York City," Parker said. "We planned to come back in 2020 after my Appalachian Trail (AT) hike, but after 344 miles down the trail the pandemic hit and I could not finish the hike."
Parker and Rinaldi eagerly awaited a return to the canyon, but had to wait until the park reopened to the public in June.
Photo Gallery
Grand Canyon mule wrangler lives her dream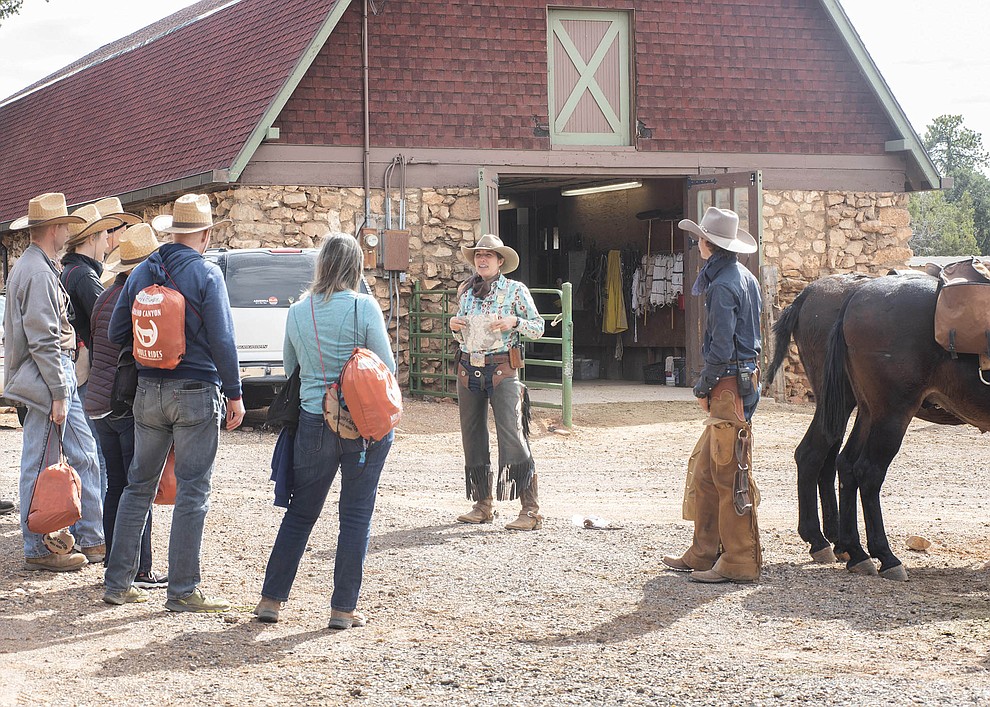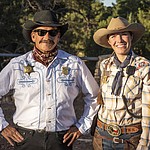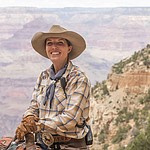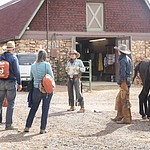 This year, Parker not only completed her 2,193 mile hike on the Appalachian Trail, but she and Rinaldi both returned to the Grand Canyon.
"It's hard to believe that we've been here for parts of three seasons now," said Rinaldi, who left a decades-long career in New York City banking to come to the Grand Canyon.
"When we first rode the mules to Phantom Ranch as tourists, neither one of us had any idea it would evolve into living here," he said. "If not for the determination and persistence of Tex to always fulfill her dreams, I certainly would not be here today and for that I am very thankful."
Rinaldi sees Tex off on every ride from the corral at Bright Angel Trail and greets her coming up South Kaibab Trail, where he is seated on a lawn chair just below the trailhead. As a talented videographer, he often records the wranglers on the trail. He has given himself the name, "Mule Wrangler Chauffeur" which he says accurately describes what he does on a daily basis.
"In 2019 I rode the mules to Phantom Ranch ten times and was tagged a junior wrangler," Rinaldi said. "I even learned all of the mule stops and could recite their talks about the canyon."
Rinaldi said living at Grand Canyon Village has been a very rewarding and satisfying experience.
"It's a dream come true," he said.
A wrangler's life
Growing up in Kingsville, Texas, Parker began riding horses when she was five years old.
"I took pony riding lessons at the Naval Air Station," she said. "My dad was director of the Moral, Welfare and Recreation Department at the base. Eventually my parents got me a Shetland pony but he always tried to buck me off so I upgraded to a King Ranch Quarter Horse."
Parker said she learned the importance of shoveling manure and keeping the tack room clean, while soaking up every Texas sunset.
"I used to always sing while riding when I was a young girl and now I get paid to do it, plus I have a captive audience," she said. "We sing songs about the Grand Canyon rock layers — we have a lot of fun on our rides."
In addition to taking care of guests, Parker claims the best part of her job is the mules. Her favorite is Ratz.
"He is such a sweet boy and was my first assigned riding mule my first year," she said. "The mules are so much fun to work with, they are the best co-workers anyone could ask for. They each have their own personality and always make me laugh."
Berry said Tex is one of his top wranglers and has blossomed into a leader.
"She's fantastic with our customers and does a great job," he said. "If something happened on the trail, I know she could handle it in a professional manner."
One of Parker's favorite segments of Bright Angel Trail is just above Oh, Jesus Corner, which is about six miles down the trail.
"The transition from the sedimentary rock to the metamorphic and igneous rock is like another world at that point," she said. "You can't see what it looks like from the rim but it's like riding through the center of the earth."
Parker also enjoys spending time at Phantom Ranch.
"(It) is such an amazing place and the history is fascinating. It's a place everyone should experience," she said. "I can't say enough good things about people who live and work at the ranch. They are so kind, helpful and so special."
When Parker isn't working, she and Rinaldi can be found watching the sun set at Grand Canyon. This has become a daily ritual for them.
"You just fall in love with the place, the human history, the beauty….it's such an incredible national park," she said.
Currently Xanterra South Rim Mule Operations employs 13 guides, 10 are women and they have one woman packer.
To view Parker's hiking channel on YouTube, tune into "Lisa P Hikes."
---
SUBMIT FEEDBACK
Click Below to: