Issue of ambulance response times in Williams sheds light on demands of first responders
Originally Published: November 9, 2021 10:07 a.m.
When there is a medical incident, people are told to call 911 and wait for an ambulance. But how long is too long to wait for an ambulance?
10 minutes? 30 minutes? An hour?
For a high school football player with a broken leg or a young horse rider suffering a head injury, it can't be fast enough.
And according to Police Chief Herman Nixon, response times in Williams have become way too long which is why he recently filed a complaint about Life Line Ambulance with the Arizona Department of Health Services, who regulates ambulance companies in Arizona.
Life Line Ambulance is the only certified ground medical transport in Williams.
"This isn't a new problem for us, this has been going on a couple of years," Nixon said. "But we had a lot of dialog with their supervisors (Life Line Ambulance) and things got better, but then in the last four or five months, things have gotten worse than they've ever been."
Nixon said it has become common for patients to wait 60-90 minutes for an ambulance to respond to a call in the Williams area.
"I don't like to file complaints, I would rather work things out with their supervision," Nixon said. "But I reached the point that I was fed up, and they didn't fulfill what they told us they would do."
Nixon said he is proud of his two officers who were recently recognized for their life-saving efforts on a man in cardiac arrest, but he said providing medical care is not a primary duty for the department.
"It ties us up a lot, CPR is no easy chore and we are sending officers into a call spending 30 minutes doing CPR," he said. "The family members are calling you for help and we aren't paramedics and we aren't EMTs and we are limited on what we can do medically."
Nixon said the delayed responses have been a strain on his officers and the city's volunteer fire firefighters. He said his frustration has grown after two recent incidents — one a visiting high school quarterback who suffered a leg fracture, and the second a domestic violence victim with a severe head injury.
"The football player went toward the sideline and was tackled awkwardly," Nixon said. "I heard his leg snap, that's how bad it was."
A long ambulance response time required officers to bring the woman with a head injury to the police station to await an ambulance.
"Our police department and fire department are getting busier and busier, with that comes more people who get injured or are sick," he said. "If you have a heart attack in Williams right now you are probably going to die because we have nobody to take care of you."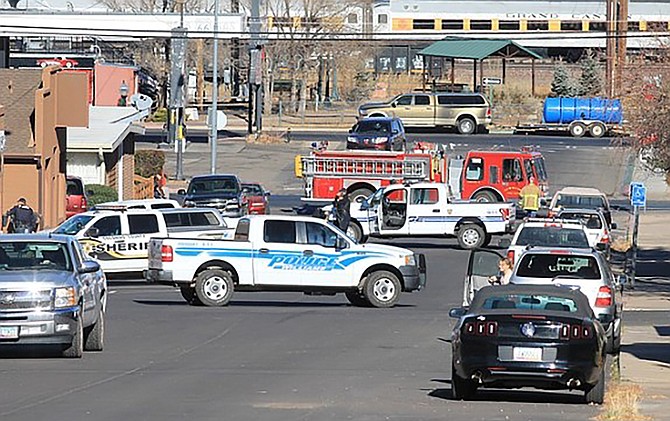 According to Williams Fire Chief Ian James, the department has several paramedic and EMT certified volunteer fire fighters, but only provides medical care at the basic life support level.
"We don't have cardiac monitors, we don't have meds or airway stuff," he said.
James said most of the volunteer fire fighters are not interested in expanding their duties to provide medical care, and the department is not certified to provide medical transport.
"Most of the people here signed on to the fire department to help the community, but they didn't necessarily sign on to become a medical service," he said.
James said as an all-volunteer crew, the department already struggles to have enough responders to fires, car accidents, fuel spills and other calls.
"When the pager goes off occasionally, everybody goes, but when it goes off all the time, EMS call after EMS call, it wears on people," he said. "They all have jobs and things going on in their lives."
James said the fire department has handled several EMS calls recently with delayed response times. On Sept. 12, a non-medically trained volunteer responded to the Williams Rodeo grounds for a juvenile who was thrown from a horse. The volunteer waited nearly an hour for an ambulance to respond.
On Sept. 4, firefighters responded to a report of a 60-year-old female with a head injury and possible shoulder dislocation. The department was advised of a delayed response time from Life Line ambulance and after more than 80 minutes the patient, who was in severe pain, was transported in their own personal vehicle.
"Our firefighters want to go fight fires, respond to car wrecks and that kind of stuff, but most people didn't sign on for more," he said. "It's rough watching people in pain and not being able to do anything about it."
When asked what he believes is the solution for Williams, James said more ambulances and crews are needed in the Williams area, and possibly another ambulance company.
"We had two full time crews in 2000, and today, 21 years later, with all the building going on, they're still at just two full time crews. I'm sure the call volume is double what it used to be," he said. "We are hoping they will step up, but I don't see it happening."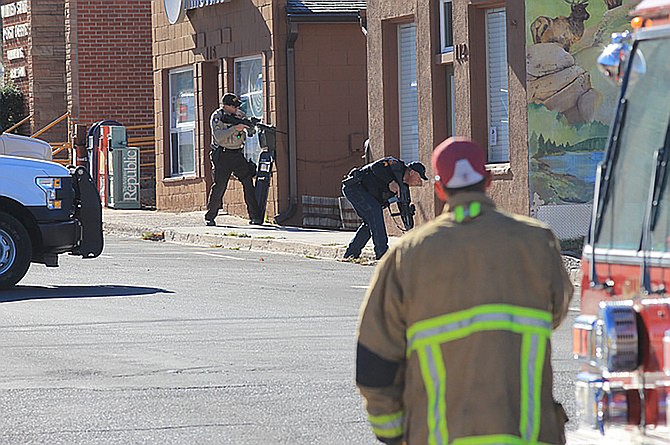 Certification and staffing
Currently, the only ambulance provider allowed by the Arizona Department of Health Serivces to operate in Williams and the surrounding area is Life Line Ambulance, a for-profit company that operates under a corporation called American Medical Response (AMR).
The ADHS certifies ground ambulance services in Arizona to ensure all areas of the state, including remote areas, have adequate emergency medical services, according to the ADHS website.
The certificate of necessity (CON), issued by ADHS, outlines the geographic service area, level of service (advanced life support or basic life support), hours of operation, response times, effective date, expiration date and any limiting or special provisions for emergency medical services in the specific geographic area.
According to Life Line Ambulance's CON, 70 percent of emergency calls in Williams should have response times of 10 minutes or less, 90 percent of all emergency calls should have a response time of 15 minutes or less, and 98 percent of emergency calls should have a response time of 30 minutes or less.
"A ground ambulance service that is awarded one of our CONs must stick with the criteria on their certificate and operate in accordance to the statutes and rules by which it is governed," the website states.
When contacted about the slow response times in Williams, ADHS said the department has opened an investigation into complaints received and is working with Life Line and other EMS providers in the region to determine if there have been any statutory or rule violations.
"ADHS continues to review ambulance response times and resource levels to ensure there are no gaps in service," the department said. "There is currently a hearing in process to determine if an additional certificate of necessity (CON) for ambulance service should be granted in this service area for a recent applicant, Priority Ambulance."
The CON process is designed to take into account community needs in addition to other requirements, ADHS said.
According to Life Line ambulance spokesperson Damon Schilling, the company's two full-time ambulance crews in Williams responded to 1,047 calls for service between September 2020 and September 2021.
When one of the two ambulance crews responds to a call, the department has a policy to move an ambulance up from Chino Valley to Ash Fork. When the remaining Williams ambulance responds to a call for service, the ambulance in Ash Fork continues to Williams, when available.
Life Line also has a standing backup agreement with Guardian Medical Transport to assist with calls.
Schilling said the company discussed several collaborative opportunities with Williams Police Department at a recent meeting. He said one of the proposals is for Life Line to employ local reserve EMTs through the fire department.
"This would allow them to respond to calls during periods of high call volume," Schilling said.
The company also discussed a program where Life Line pays students to attend an EMT class on company paid scholarships.
"Like all areas of healthcare, Life Line Ambulance has staffing issues," Schilling said. "It is with that understanding that we have adopted a multipronged approach. Our Earn While You Learn Program is designed to recruit homegrown heroes."
Schilling said the company is also aggressively recruiting paramedics and EMTS and offering sponsorships for current employees to attend paramedic school.
---
SUBMIT FEEDBACK
Click Below to: