Proposed development could bring housing and theme park to 480-acre ranch property in Williams
Originally Published: May 25, 2021 10:40 a.m.
WILLIAMS, Ariz. - A recent announcement about a new master-planned community on 480 acres in Williams has raised the question of whether Williams' infrastructure is prepared for an influx of 1,000 homes in the near future.
"To me, a thousand homes, Williams cannot support that," said Williams Community Development Director Tim Pettit.
Currently in escrow, developers announced they are planning to build multi-family housing units, custom homes and a western-themed amusement park on nearly 500 acres of rural ranch property just north of Interstate 40 and west of Love's Travel Center. The property is listed for $20 million and is currently owned by the Max Biegert estate.
Total development costs for the project are estimated at $500 million, said Brent Moser, principal at Lee & Associates Commercial Real Estate Services in Phoenix who represents the buyers. The buyers include a Kansas-based investor group and Lonnie McCleve, a Phoenix-based developer who has built several housing subdivisions in Bellemont, Arizona.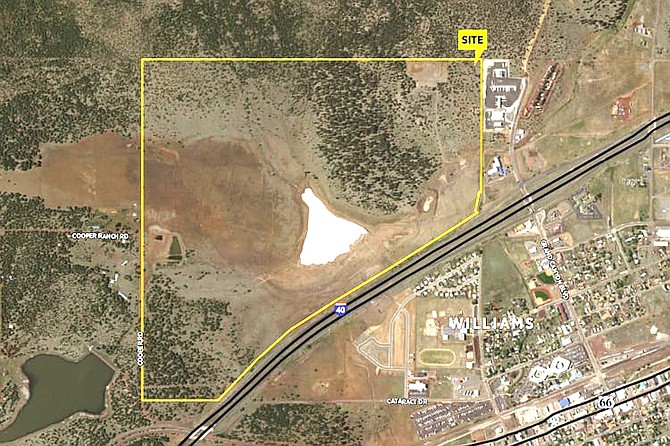 Although Lee & Associates has made a public announcement about the sale, Mayor John Moore said the buyers have not submitted any development plans yet to the city.
"We've had some preliminary discussions with a few people, that might or might not be involved with the development," he said.
Despite the limited discussions, Moore said his primary concern is how the development will affect town residents.
"On one hand, I know we need development — we badly need housing in this community," he said. "On the other hand, if it's so much that it changes our whole way of life, then we don't need it."
City infrastructure
Although Williams has invested in a new well and upgrades to the city's water system, water supply is a continual concern in northern Arizona.
Pettit said the city is concerned about water consumption, but he believes the city's wells and water supply are adequate for the project.
The city does have a prior water agreement with Biegert that is currently being analyzed by city attorneys, Pettit said.
"We're in a better situation now than we have ever been, we know where the water is at," Pettit said. "So if they need another well, we can require them to pay for upgrades to our system."
In addition to water supply, Pettit said the city is concerned about reaching capacity at the waste water treatment plant.
"Our waste water is at about 60 percent (capacity)," he said. "(With this development) it will be over capacity."
Pettit said the Arizona Department of Environmental Quality will not allow the plant to operate beyond 80 percent capacity.
"You can't have any growth until it's improved — and that's on the developers," he said.
A hot real estate market
Moser said the Arizona housing market is the driving force for the project.
"This is all being driven by the land market and the housing market," he said. "In my 25 years of work it has never been hotter. It's not just Coconino County, it's the entire state."
Moser said McCleve became interested in the property in early 2020.
"I believe he likes working in northern Arizona and this is a potential next step for development," Moser said. "He, like I, is just in love with the property and Williams."
While it's still in the early stages of planning, Moser said about 90 of the 480 acres will be designated for custom homes on half-acre lots. Closer to Interstate 40, the developer is planning for lower-priced workforce housing and multi-family units.
"As you go to the north of the property, where there are spectacular views, that is where we envision higher-end custom lots," he said. "It's elevated 100 feet above the lower portion so the views looking at Bill Williams Mountain are just outstanding."
A western-themed park
The developers are also in negotiations with an entertainment design company to develop 85 acres of the land into a western-themed story park.
Greg Schumsky, of Acorn Entertainment, wants to build Jackalope Junction, a theme park with western and steampunk themes based on characters he created — a story park where families can come, spend a day reconnecting, make great memories and be part of an adventure.
"It's about values and moral and accountability, all these great old-fashioned values that people don't seem to have anymore," he said. "We want to bring back the wholesomeness that's been missing from entertainment venues, movies, film and television for ages."
Schumsky hopes to create an original story park where children can feel like they are in the old west and also be in a place where it's dark enough at night to see the stars.
"There will be an overnight camping experience where families can stay in a teepee or a covered wagon, have dinner, have story time and dessert and sleep under the stars and see the Milky Way," he said. "In the morning they get a chuckwagon style breakfast and get a run of the park for the rest of the day."
In addition to the fantasy style western town with steampunk characters, the park will include water rides and a farm experience. The facility will also have a small hotel with time share cabins, an event center for weddings and corporate retreats, and a 4,000-seat outdoor concert venue.
Schumsky said the goal is to also utilize green building methods and energy conservation.
"We think we will be the first sustainable park in the nation," he said.
A sure thing?
Moser said although Schumsky is still in talks with investors for the theme park, the housing development portion of the property has the money needed to begin.
"We have the seed level of the investment already arranged," he said. "We've structured the transaction in a manner that doesn't require a ton of equity at closing."
Moser said he feels confident in the project and believes the property will close by the end of the third quarter or beginning of the fourth quarter of this year.
"We would not have put this out there if we didn't feel comfortable that this is moving forward and it's a real transaction," he said. "I feel confident that we have the ability to help pull this off and the resources to find equity and users for the project."
What's next?
Pettit said the city has yet to become involved with the Biegert property transaction. He said the buyers will need to submit a development plan and an application for rezoning. The current zoning is rural residential which allows one home per 5 acres.
In addition to the application, the developers will also need to present their plan at several public hearings, to the Williams Planning and Zoning Commission and the Williams City Council.
"I think you have to work with the developers, not fight with the developers," Moore said. "Nobody wins when you plant your feet solid in the ground on either side."
Moser said the developer is in discussions with several home builders and hopes to begin on the infrastructure and open 150 home lots once the project is approved.
"I envision this being a 10-20 year project," he said. "I think we have the expertise and knowledge to make everybody happy and make this a huge windfall for Williams and not a detriment."
Property history
The 480-acre property was part of a large land purchase of Max Biegert, who bought and revived the Grand Canyon Railway in the late 1980s. Biegert sold the railway to Xanterra Parks & Resorts in 2006 yet retained the 480-acre ranch property.
McCleve and the Kansas investors aren't the first developers to show interest in the ranch property.
In 2015, the Michigan-based Granger Group expressed interest in buying the property for a major theme park. The group compared the Williams theme park plans to the operation of Busch Gardens in Tampa Bay, Florida. Busch Gardens is 335 acres with 4.3 million visitors each year. The Granger Group projected the theme park would cost between $300 million and $500 million to develop.
In 2018, it was announced that the Granger Group was no longer interested in purchasing the property.
SUBMIT FEEDBACK
Click Below to:
More like this story