Whiskey with a cause: Grand Canyon Distillery offers spirits to benefit local fire departments and firefighter families
Williams Fire and Ponderosa Fire to receive 20 percent of proceeds from sale of specialty whiskeys
Originally Published: May 11, 2021 3:04 p.m.
WILLIAMS, Ariz. — There's a new flavor at Grand Canyon Brewery and Distillery that's reminiscent of the great pine forests of northern Arizona with a hint of smoke and char.
To benefit Williams Volunteer Fire Department and Ponderosa Fire Department, the distillery is now offering two new whiskeys.
"We had these two really unique whiskeys and we weren't sure what to do with them," said Jacob Newton, head distiller at Grand Canyon Brewery and Distillery in Williams. "I was driving up to Oregon one day and it dawned on me that we should do a charity donation with them."

Newton proposed the idea to distillery owner John Peasley, who tweaked the idea by increasing the proposed donation from 10 to 20 percent of the proceeds going to local fire departments.
Newton, who recently joined Williams Volunteer Fire Department and has worked as a volunteer firefighter for a department in Oregon, said it was important the proceeds go toward local fire departments.
"Johnny wanted to make sure we stayed local with both of them," Newton said.
Don Mackay, assistant chief of Williams Fire, said the department was delighted to be recognized by Grand Canyon Brewery.

"It's quite an honor to be acknowledged in such a large way. Being a volunteer department, it is easy to get left in the shadows from time to time. Knowing our community and local businesses respect, appreciate and thank us for the services we render means the world to each and every one of our members," Mackay said.
Mackay also thanked the Peasley family and the Grand Canyon Brewery team for their support.
"We are truly touched and grateful," he said.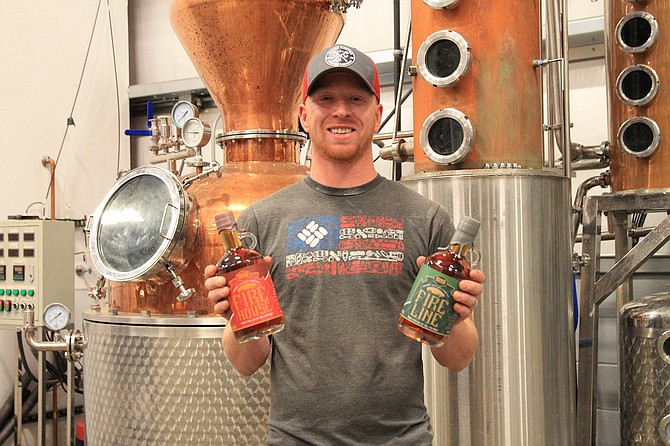 According to Newton, the whiskeys are unique because they're made using IPA and stout beers instead of grain.
"Most whiskeys are made just using grain," Newton said. "Bourbon is corn, single malt is malted barley and usually there are variances in the grain. What makes these different is that they were made from beer and beer has hops added into it."
The whiskey was barrel aged for 26 months in a rick house located on the brewery property.

The Fire House Whiskey is made from a stout beer.
"It has a smoky char and oak flavor. It's a really pleasant whiskey to drink and because it had that smoky char to it we thought let's do that for a firehouse and donate it to our local department," Newton said.
The Fire Line Whiskey is made using the brewery's Black Iron IPA.
"It has a really unique pine, hoppy flavor, which to me is really reminiscent of being out in the forest," Newton said. "We thought, wildfires and being out in the forest, so we got ahold of Ponderosa Fire and they said they do a little bit of (wildland firefighting) there."
A total of 180 bottles were packaged and around 80 are still available for purchase. Each bottle costs $65.
"It should be around $3,000 donated to each fire department once we sell them all," Newton said.
In addition to the whiskeys, the brewery is also donating 20 percent of proceeds to the Arizona Firefighter's Emerald Society from the sale of Brew Forty-Two, an Irish red ale.
Brew Forty-Two was designed by Grand Canyon Brewery Graphic Designer Kevin Calloway to honor the memory of his high school friend who later became a firefighter and passed away from cancer related to firefighting. Proceeds from the sale will be used toward firefighter related cancer research and to help firefighter families.
"We are hoping to do this every March," Newton said.
The whiskeys and Brew Forty-Two are available for purchase at the Grand Canyon Brewery in Williams and at their Flagstaff location.
SUBMIT FEEDBACK
Click Below to: