NPS announces plans to fully reopen Grand Canyon by May 21
Grand Canyon consults Navajo Nation in preparation for opening east entrance; park visitation drops 3 million in 2020
Originally Published: March 16, 2021 9:31 a.m.
TUSAYAN, Ariz. — The National Park Service has announced its plan to reopen the east entrance to Grand Canyon's South Rim as well as park visitor centers and other facilities by May 21, after an entire year of closures because of the coronavirus pandemic.
Jan Balsom, senior advisor for the Grand Canyon office of the superintendent spoke to the Tusayan Town Council on behalf of park Superintendent Ed Keable about the plan, at the town's March 10 regular council meeting.
"We'd really like to see all this opened by Memorial Day Weekend," Balsom said, while noting that NPS has been closely following progress on Grand Canyon's neighbor, the Navajo Nation, as well as continuing guidance from the Center for Disease Control and Prevention (CDC), as it pursues its current reopening strategy.
Balsom stated that about 80 percent of residents on the Navajo Nation have received a first dose of vaccine, and about 30 percent have received a second dose.
"According to information from the Nation, they hope to have everyone vaccinated by the end of March, so that's a good sign for their tolerance of reopening," she said.
On April 1, 2020, Grand Canyon National Park announced it would close because of the coronavirus pandemic. These closures included the park's east entrance, which connects Grand Canyon to the Navajo Nation via State Route 64.
Since then, the park has partially reopened, however, the east entrance has remained closed in order to continue to protect neighboring communities, especially the town of Cameron, located on the Navajo Nation.
However the closure has caused dramatic losses to revenue park-wide, as park visitation numbers dropped from 5 million in 2019 to just 2 million in 2020, according to the park.
Balsom said NPS has continued to maintain communication with tribal leadership and is sensitive to the needs of its communities.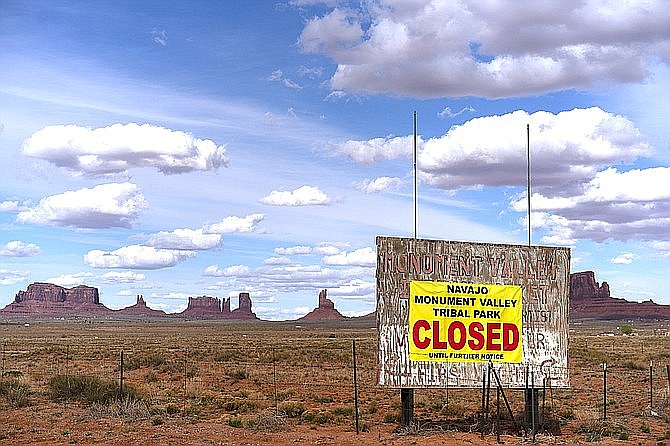 "Ed (Keable) is really wanting to make sure we don't impose a start date without affirming the Navajo Nation communities know what we're doing (and) that they feel ok about it. We are trying to be as responsible as we can and respectful of the Nation's desires," Balsom said.
According to Balsom, Grand Canyon concessionaire Delaware North is hoping to restore access to its Desert View Trading Post and General Store, located at the east entrance, beginning in April, prior to the east entrance reopening.
Tusayan Mayor Clarinda Vail asked Balsom to let Tusayan Town Manager Charlie Hendrix know if there was anything the council could do to assist NPS with reopening.
"If anything comes up that the town can help with, please reach out, even if it's last-minute, we would get together a meeting quickly to help in any way," Vail said.
At the start of the pandemic, Tusayan set aside an $800,000 COVID-19 relief fund to assist the town with pandemic-related needs, including assisting businesses with providing PPE (Personal Protective Equipment) for their employees.
At the March 10 meeting, the council authorized $25,000 from the fund to resupply dwindling amounts of gloves, cleaning agents, signage and other necessary items, based on a recent assessment of needs, as the town prepares for an influx in visitors when the park reopens.
Navajo Nation announces soft reopening
Shortly before the Tusayan council meeting, the Navajo Nation announced plans for a soft reopening, effective March 15.
"This is not a full reopening as some states are doing. Instead, this is a carefully-crafted soft reopening that includes specific guidelines to continue helping to reduce the spread of COVID-19 while allowing more businesses to reopen at no more than 25-percent capacity along with strict provisions," said Navajo Nation President Jonathan Nez. "We continue to rely on the data and the advice of public health experts as we move forward in this pandemic. The recent data shows that there is a consistent reduction in new infections, a reduction in hospital visits and hospital bed usage, and very high rates of vaccinations across the Navajo Nation."
According to public health officials, the Navajo Nation has met all gating measures and indicators to transition to "orange status" because of a consistent downward trajectory in new infections of COVID-19.
The Nation reports less than 80 percent inpatient hospital and ICU bed usage, and an infection rate of 0.81 over the last seven days, which indicates the Navajo Nation can expect to see fewer cases.
As of March 10, the Navajo Nation had 24 consecutive days with less than 50 new COVID-19 cases and 13 consecutive days with less than 25 reported.
New provisions set forth in the announcement include a 25 percent capacity allowance for most businesses, as long as social distancing measures remain in place.
The provisions also require businesses planning to reopen to submit a COVID-19 reopening plan to the Division of Economic Development before reopening.
Also included are appointment-only access to personal care services as well as marinas and parks, and a reopening of casinos to residents and employees only, providing workplace safety plans are in place.
Arizona sees overall reduction in new cases and hospitalizations
According to a report from AZ Big Media, Arizona has seen a 40 percent reduction in daily COVID-19 cases since February.
The state recorded 58,075 cases in February, an average of 2,074 cases per day — a 73 percent drop from the average number of new cases per day in January. And through the first twelve days of March, the state is averaging 1,254 new cases per day — a 40 percent drop from February numbers, according to the report.
In addition to declining cases, ICU hospitalizations are also seeing decreasing rates.
In a recent report released by the University of Arizona, as of March 5, 280 (16 percent) of Arizona's 1,751 ICU beds were occupied with COVID-19 patients, a 33 percent decrease from the prior week's count of 415 patients. An additional 263 (15 percent) ICU beds remained available for use. This is higher than the prior week's 246 available beds. ICU occupancy has fallen 76 percent from its January 11 peak of 1183 occupied beds.
SUBMIT FEEDBACK
Click Below to:
More like this story